Our mission and values are at the heart of everything we do at St Cuthbert's Hospice. They are the driving force of our commitment to being the best we can be for our patients and the people who are important to them, for our customers and supporters, and for each other.
Our Mission
To make every day count for those affected by life-limiting illnesses
Our Vision
To be a centre of excellence within our community and to provide all-embracing, compassionate and individualised care to all those affected by life-limiting illnesses, at a time and a place that is right for them
Our Values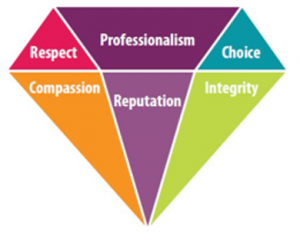 Respect
Professionalism
Choice
Compassion
Reputation
Integrity
Our Philosophy of Care
At the heart of St Cuthbert's Hospice is the individual who is seen as a unique person deserving of respect and dignity. Our aim is to support each person and their family and friends, helping them to make informed choices and decisions affecting their lives. 
Individual care is planned to support the total wellbeing of each person, taking into account their physical, psychological, social and spiritual needs. 
We will work together to provide a warm and welcoming atmosphere that accommodates diverse cultures and lifestyles within a calm and compassionate environment. As a team, we will strive to provide care of the highest standard by ensuring staff are up to date with current research and training. 
We are aware of the valuable work undertaken by individuals and agencies in the community and we will work in partnership with them to provide excellent services for the people of Durham. 
We see life – and death – as a journey to be made in the company of others. We are rooted in our local community and we approach life and death through a philosophy based on support and hospitality.