The Bereavement Support group will run as a part of the Community Outreach Project to extend support for those who are bereaved in the community. 
Our Bereavement Support group has been developed to offer a friendly safe space for those who have been bereaved.
There will be a range of activities as well as a chat over a cuppa.
We recognise that everyone's journey through grief is unique and the support and care required for one will be different for another.
We meet every Thursday 1pm – 2:30pm at the Sacriston Youth Project, Unit E, The Old Co-operative Buildings, Plawsworth Road, Sacriston, DH7 6PD. 
The Bereavement Support group is not counselling or therapy lead. If you feel as though bereavement counselling would be better suited to you or you would like to know more about our counselling service please do not hesitate to get in touch and visit our Bereavement Support page.
Meet Mandy ...
Mandy, one of our volunteers who supports our new community Bereavement Group has shared her experience of what it's like to visit the group.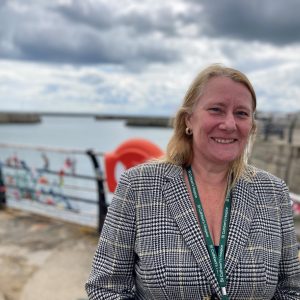 "I know, after loss, its hard to get out. Sometimes just the thought of getting out of the door and speaking to other people is too much. But I've also seen first-hand how much it helps to be with other people. People who understand, who you can connect with and I wish this group had been around when I lost my Mam.
Don't feel alone in grief. Please come and join us, even if you just pop in to say hi, you've got a warm welcome and a cuppa waiting for you. You can talk as much or as little as you like.
This week we discussed all sorts from gardening to knitting to 60's music and even Take That! One of our lovely members brought in some paper flower making kits, it was a great way to keep our hands busy whilst we chatted the afternoon away.
This may sound unexpected from a bereavement group but there was plenty of laughter and reasons for joy so please come along and join us for a cuppa."
If you would like to join any of our Community Outreach groups, please fill out the below expression of interest form. You do not need to fill out an expression of interest form to come along to our Coffee Morning.
Chat to us ...
Or if you would simply like to pick up the phone or send us an email please do and we can answer any questions you may have. Our contact details are just below.
The Coffee Morning is also a great chance to drop in and chat to us in person.
Coffee Morning – Monday, 10am – 11:30am, Chester-le-Street Parish Centre, Church Chare, DH3 3QB.
If you would like to enquire about the Bereavement Support group, please contact our Community Outreach Team. 
Louise Johnson
Community Outreach Manager
Direct Line: 0191 374 6196
Email: Louise.Johnson@stcuthbertshospice.com
Emma Spencer
Community Outreach Coordinator
Direct Line: 0191 374 6165