Namaste is a Hindu term meaning 'to honour the spirit within'
Namaste Care is a person centered therapeutic approach which aims to promote improved quality of life for people in the later stages of dementia. It does this by encouraging engagement in  meaningful activities to provide enjoyment and comfort.
These activites may include:
Offering gentle touch, for example through hand massage or hair brushing
Listening to favourite music
Reading favourite books and poems
Art activities
Playing games such as dominoes
Jigsaws
Encouraging gentle movement
Namaste Care is facilitated by trained volunteers and can be provided in the person's own home or in some cases, in a group session.
A carer/family member must be available to be present in the home during Namaste home visits.
Our Namaste Coordinator will:
Carry out an initial assessment
If agreed Namaste Care is appropriate, match you with a volunteer to provide Namaste Care in your own home or potentially invite you to try a Namaste group (depending on availability)
Signpost or refer you to additional support if required (for example Hospice Admiral Nurse)
Our trained Namaste Volunteers will:
Visit you regularly if home visits are agreed to provide Namaste Care
Provide emotional support
Signpost or refer you to additional support if required (For example the Hospice Admiral Nurse)
How to refer to The Namaste Care Service
St. Cuthbert's Hospice provides Namaste Care to people living with advanced dementia who are registered with a GP in Durham or Chester- le- Street.
Refer today
For further information or if you would like to discuss in advance of a referral, please contact our Namaste Coordinator, Lesley Ann Leighton, by calling 0191 386 1170 (Dementia Services Option 4) 
Call for Volunteers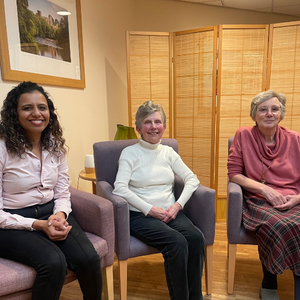 Meet Neetu, Chris and Veronica some of our amazing Namaste Care Volunteers. Read their story here. 
As Namaste Care is provided by trained volunteers we are always keen to welcome new volunteers to the service.
Volunteering for the Namaste Care Service is an opportunity to make a real positive difference to people living with advanced dementia and their families.
Previous experience is not essential, training will be provided.
To enquire about volunteering please contact our Volunteer Coordinator on 0191 374 6169 or  email volunteers@stcuthbertshospice.com to register your interest.