Alongside the care we provide in our In-Patient Unit, the Living Well Centre, Bereavement Support and Dementia Services, we have a number of facilities at the Hospice. Some are open to the public where others can be booked for use by external organisations.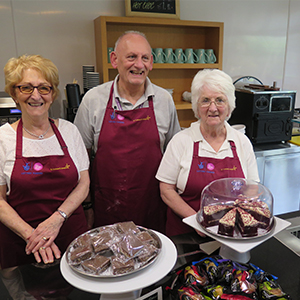 Our Café
We're sorry – our café is currently only open to patients, visitors, staff and volunteers. Please check back soon to see when we reopen to the public. We can't wait to welcome you back for our famous homemade scones and a cuppa. If you have any questions relating to our café please email hello@stcuthbertshospice.com  (updated October 2022)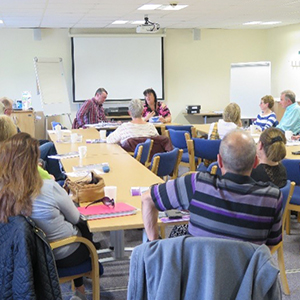 Meeting space in The Education Suite
We are currently limiting the use of the Education Suite and are not taking any external bookings at this time. Please check back to see when we reopen this meeting facility. 
Our Gardens and Greenhouse
Five acres are lovingly cared for by a hugely dedicated team of volunteers. Plentiful borders surround the lawns with lots of areas for patients and visitors to relax along the accessible pathways. Our Victorian-style greenhouse is the jewel in the crown of our vast Hospice grounds. We often use this space for our Dementia Services Gardening Group. As well as a beautiful environment, the gardens provide the freshest fruit and vegetables for our kitchen, and flowers to be displayed around the Hospice. Spare produce is also often available to the public at the Hospice entrance, in return for a donation. We also have a wooded area, dementia friendly sensory garden and 'In Memory' garden. This is a place of peaceful relaxation featuring a small stream and the sound of gently clinking of leaves on the In Memory Tree. We're lucky to welcome lots of wildlife to our grounds so be sure to keep a look out. You may also see sheep and cows in neighbouring fields.