Christmas Tree Recycling is back!

Collection dates are from Friday 6th January – Saturday 14th January
For a suggested donation of £10, we will collect your tree, take it away to be recycled and take the hassle out of your Christmas clean up!
Collections are available in the following postcode areas:
DH1, DH2, DH3, DH6, and DH7
No mess
No queues at the tip
Just simply remove the decorations!
Bookings will open online via our website in the autumn.
In partnership with: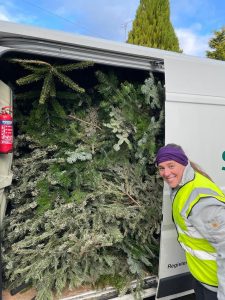 When is the last date I can book to have my tree collected and recycled?
Due to the routing, planning & volunteers needed we can only accept bookings until midnight on the 2nd January 2023. Unfortunately, we are unable to accept bookings submitted after this time.
How much will it cost?
You can make a donation of your choice, and if you are a taxpayer you can also Gift Aid your donation. We ask for a suggestied donation of £10 per tree.
On average, last year people donated £12.60 per tree
It costs £2,300 per day to provide the special care that we do at the Hospice so please give generously.
Can I donate when my tree is collected?
No, unfortunately, all collections need to be pre-booked.
What do I have to do?
Book your collection, take the decorations off and leave your tree in your designated place by 8am on Friday 6th January 2023.
When will it be collected?
Your tree will be collected between the 7th and 14th of January 2023. Unfortunately, we are unable to provide you with a specific date and time.
Do I have to be in?
No. Just leave it in your designated place ready for us to collect providing we can access it.
Where do I leave my tree?
When you book, you will be asked for an accurate address (including postcode), if you live in a property that is difficult to find please leave detailed instructions. Where possible please leave the tree on your property close to the road where it can easily be seen.
If you have to leave it on the pavement please ensure it is not a safety hazard to others.
If it cannot be left in view please include detailed information on where it is when you register e.g. "through the gate on the right, down by the bins." And ensure that it can be retrieved safely by our volunteers.
Who will be collecting my tree?
Our wonderful team of Hospice staff and volunteers will collect and recycle trees for a donation of your choice. Our Collections Team will be wearing high-vis jackets and will have Hospice ID so that you can easily identify them. They will also adhere to the latest guidelines surrounding the pandemic. We are kindly being supported by Hill Top Hire and Poplar Garden Centre who are providing us with vans to enable us to safely and effectively carry out the collections and as such the vans will have their branding on them, again this will help you to identify our Collections Team.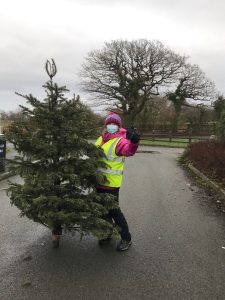 What if we have adverse weather conditions?
At this time of year, the weather can be unpredictable, especially in some of our rural areas. We will advise you of any changes to the collection dates should there be an issue with the weather. The safety of our staff and volunteers is paramount and we will be guided by weather warnings.
Why can you not specify a time or day for my tree to be collected?
Due to the vast number of trees to be collected we are unable to give an exact time and day when we will be in your area.
What if my tree hasn't been collected by 4pm on the 15th January?
Please contact the Community and Events Team immediately on 0191 386 1170 option 5 or email fundraising@stcuthbertshospice.com
What will happen if I do not put my tree out in time?
We will not be able to collect your tree if you fail to put out your tree in your designated location by 8 am on Friday 6th January 2023.
Do you collect artificial trees?
No, however, if your artificial tree is in excellent condition you can donate this to our Retail shops.
Do you recycle decorations?
No, please ensure that all the decorations and stand/bucket are removed prior to collection.
What do I do if my tree if taken prior to collection?
If your tree is taken or it is moved before the 6th of January please advise the Community and Events Team on 0191 386 1170 option 5 or email fundraising@stcuthbertshospice.com
What happens with my donation?
Your donation comes straight back into St Cuthbert's Hospice and is spent on providing care to our local community.