Do you think you have the paw-fect pet?
If so, St Cuthbert's Hospice Online Pet Show is a fun photo competition that gives you the op-paw-tunity to show off your animals.
Categories
Whether you've got a fur-baby or feathered friend, we've a category for you to enter!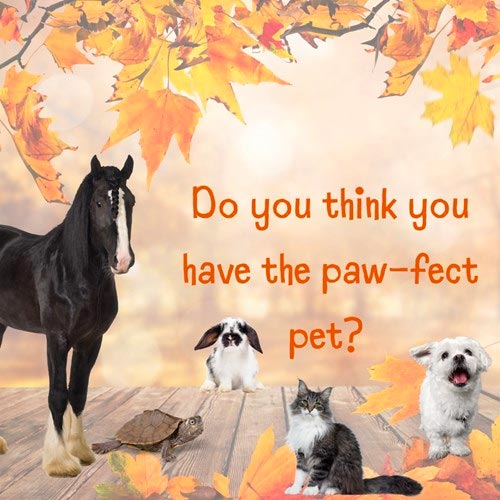 Dogs:
Prettiest Puppy
Dog Judge Wants to Take Home
Best Dressed Dog
Dog Most Like It's Owner
Happiest Hound
Cutest Crossbreed
Perfect Pedigree
Scruffiest Mutt
Cats only:
Open to all:
Fabulous Fella
Gorgeous Girl
Best Rescue
Golden Oldie (8 Years & Over)
Most Appealing Eyes
Favourite Family
Spooktacular Pets – Best Dressed Halloween outfit
Lockdown Hero – Any pet who has helped you through Lockdown
Best of the Rest – (Any pet which isn't a cat or dog!)
Best In Show—Winners from all the categories
Take part
Entries cost just £2 per animal, per category.
Every penny raised will help us to provide free care and support to people with life-limiting illnesses, those approaching the end of life and to families that are bereaved.
Each category will be listed in a separate photo album on our dedicated Facebook group.
Entries open from Friday 15th October and run until 5pm on Friday 12th November!
For each category, a special personalised certificate and rosette will be awarded to 1st, 2nd and 3rd placed animals.
Our Best In Show Winner will receive a Pet Photography Shoot curtesy of Jason the Dog Photographer – Jason Allison Pet Photography
Reserve Best In Show – Our Reserve Best in Show winner will receive a Personalised Pet Portrait, curtesy of Yorkshire Pet Portraits
Send us your photos!
Please remember, once you have made your donation, send us your photo(s) to fundraising@stcuthbertshospice.com or send a message to our St Cuthbert's Hospice page on Facebook.
Do make sure to include your pets name and category.