Kathleen McCann, 72, from Bishop Auckland, is currently receiving end of life care here at St Cuthbert's Hospice. She has a great love of fireworks and a chance conversation with hospice House Keeper Val Carrick and Health Care Assistant Yvonne Stewart lead to the special outing being arranged.
Kathleen, a former Military Police Woman, said: "I've been fireworks daft all my life and when I heard St Cuthbert's were putting on their own display as a fundraising event, I asked if I might be able to see them from my windows in my room at the hospice. Val explained the display was some way away so sadly not. Unbeknown to me she spoke with her colleague Yvonne and behind the scenes the staff put a plan in place to get me there."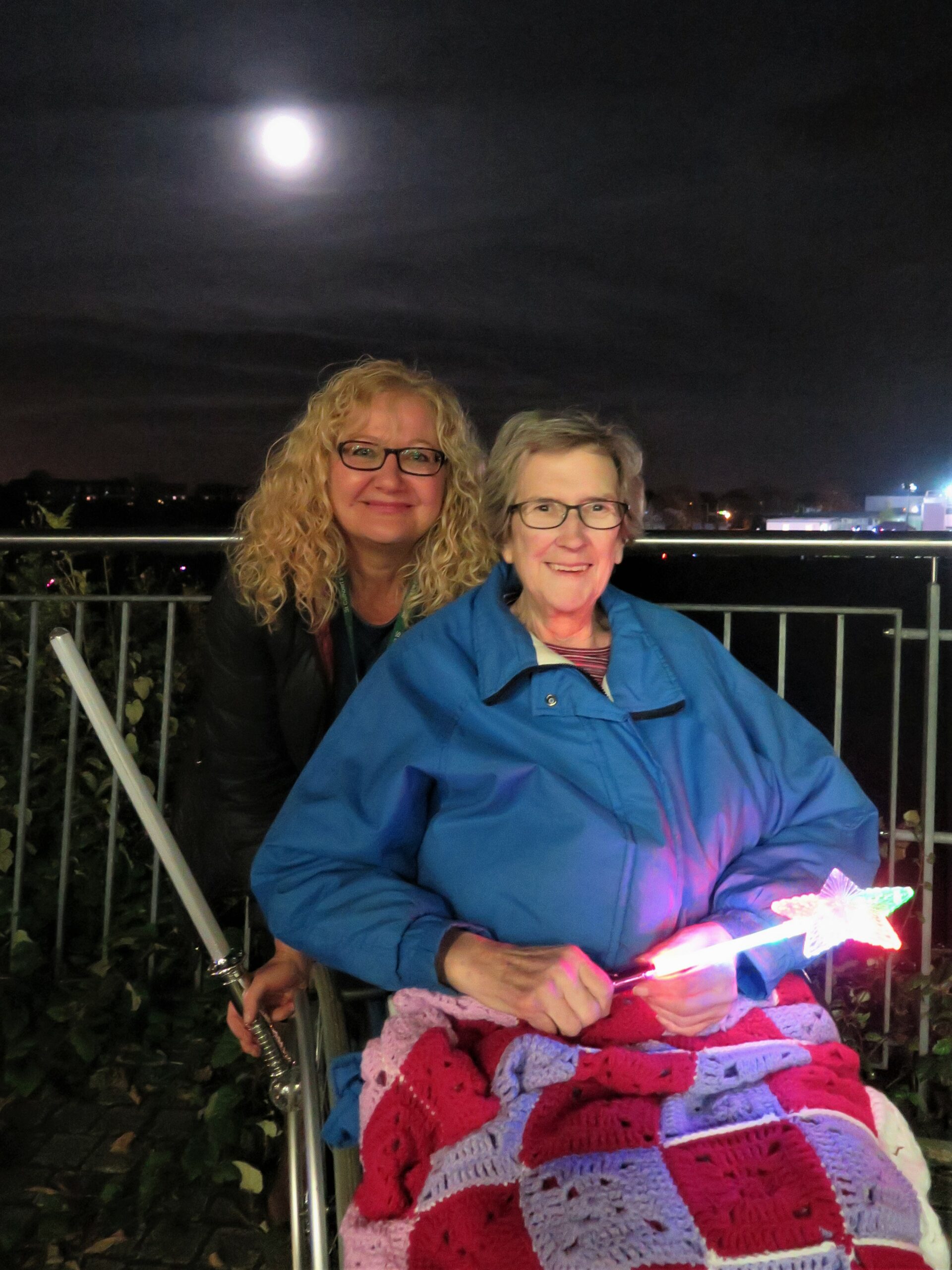 "I couldn't believe it when they told me I could go. The staff here are always busy busy busy, but never too busy for you. Everything is centred on the patient, they go to the nth degree for everything – be it a cup of tea or your dinner – but this was just above and beyond."
Kathleen's huge love of fireworks means that in the past she has been to an indoor firework display and has even been known to go to two displays in one evening. Though she was absolutely thrilled with the opportunity to see just one display this weekend.
Kathleen said: "Words cannot express the joy and delight I had on Saturday night at the fireworks. We took a little video as the fireworks lit up the skies. I hadn't realised that the video took audio and you'd hear me singing along to "Magic Moments". It's good to look back on and have a little giggle though.  I am so grateful for the chance to see one more display. I can't thank the staff enough for helping me with this great adventure. My only disappointment was that I wasn't able to get out in the crowds with a collection bucket for the hospice and help to raise even more money for them so that they can help more folk like me."
"I've had a good life. I've close friends and family. When I die I'd like to be turned into a firework, a great big rocket and have a little display for everyone. Shooting up to the sky is near to heaven" Kathleen jokes: "I'm not getting there any other way!"
Jade McArdle Senior Community & Events Fundraiser said: "We always have such a great night at the fireworks display but knowing that this special outing was being arranged for Kathleen and how much it means to her, just added to the evening for all staff who knew this was happening behind the scenes."
"Events like this help us to raise the vital funds needed to ensure we can continue to provide outstanding care to people like Kathleen in County Durham. Our Fireworks Spectacular was the biggest it's ever been this year and has helped to raise over £20,000. In real terms that money could pay for 800 hrs of specialist nursing care. We'd like to thank everyone who came along to support us."
November 2018