In our Autumn Winter edition of the Insight Magazine, you can read all about how we we continue to make every day count here at the Hospice for all of our guests, their families and our local communities, thanks to the generosity of our many supporters.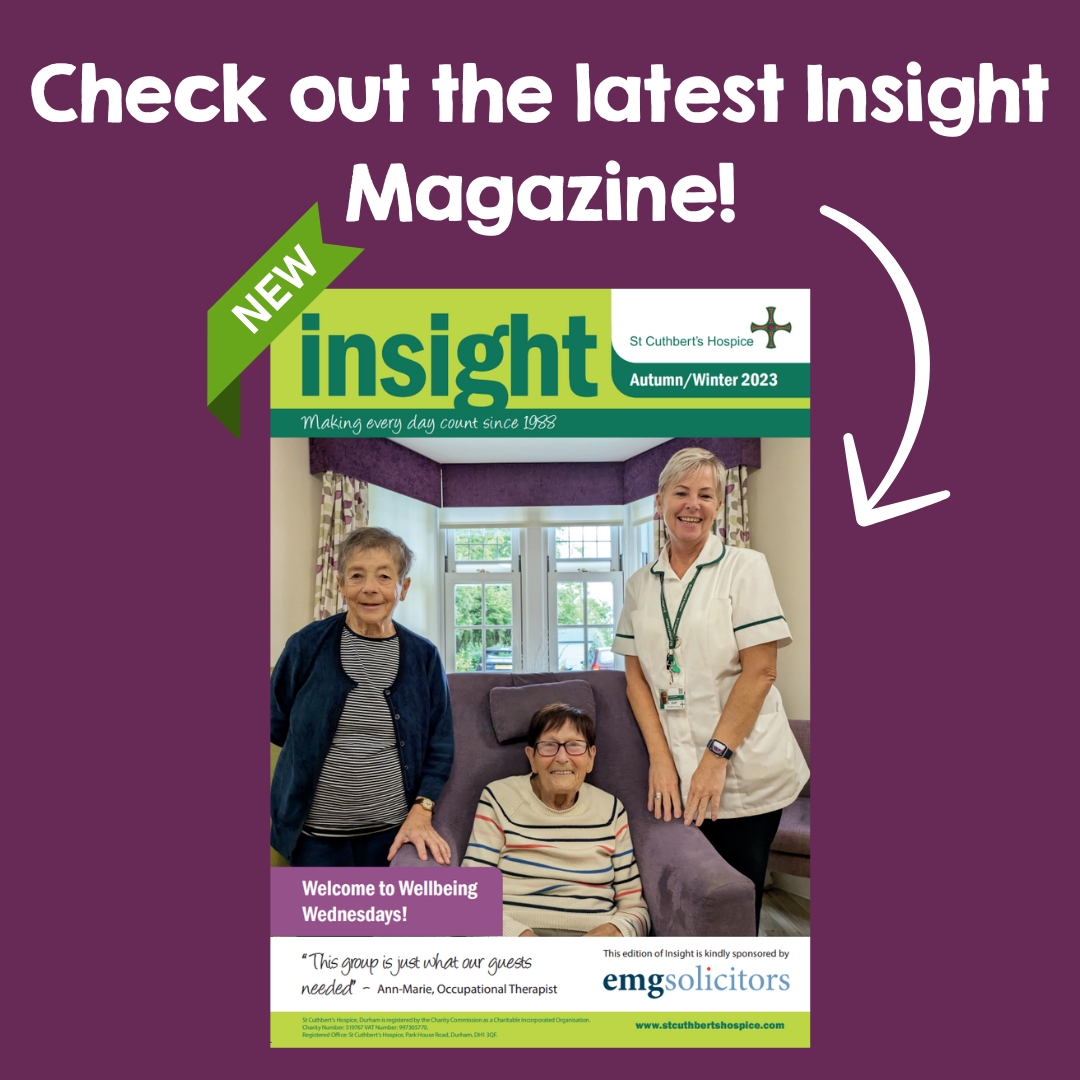 If you would like to sign up to receive a copy of Insight Magazine in the post or change your current communication preferences please email hello@stcuthbertshospice.com
Insight Cover Letter
We often talk about the little things here at the Hospice. The little things that so many of us take for granted or wouldn't even think twice about every day. If you are reading this and you have experienced the warm welcome of St Cuthbert's Hospice, then we can imagine you already know what we are talking about. You may even be thinking of the little things that helped you.
It's the wholehearted 'hello' you get from our reception volunteers when you first come in, the cup of tea our nurse makes for you during a well needed chat, or the beautiful gardens surrounding the Hospice that you can visit when you need a breather. It's the relaxation our patients feel when they are able to have a bubble bath for the first time in a long time, because it was just too unsafe to do so before. Or as dusk approaches, and our Hospice keeps on caring throughout the night, it's the soft lighting that subtly shines throughout our reception, welcoming visitors 24 hours a day. Something that can seem so simple, so trivial, makes a huge difference to those in our care.
At the Hospice we always go the extra mile to focus on the little things which matter to you. That's what makes the difference between receiving care and receiving St Cuthbert's Hospice care.
Above all, we couldn't do what we do without your love and support.
Your compassion, your help and your donations ensure that we can continue to deliver all-encompassing care for people and their families at a time when they are at their most vulnerable. At a time when a listening ear, a kind word and a chance to sit, breathe and chat is desperately needed.
A very real struggle that we are facing at the Hospice, is the significant rise in energy costs. Quite literally our energy costs have doubled. We know this is a concern that we all share, especially as we brace ourselves for the coming winter months.
To make sure that we can keep the warmth in, the lights shining, the baths running and the kettle on, we knew we needed to raise £100,000 and so we launched our Power Up! Appeal back in July. We are so grateful and extremely proud to say that with thanks to our outstanding local community, business supporters, and grant-giving organisations, we have already raised over £70,000 so far – isn't that amazing!
We need your help to reach our £100,000 target, before winter. If you are able to, please consider donating to our Power Up! Appeal online here.
By donating what you can to our Power Up! Appeal, you will be helping us to continue to care for, laugh with, listen to and comfort thousands of individuals and families across County Durham now and for the future.
Thank you all so much for helping us to make a big difference with the little things.
The Team at St Cuthbert's Hospice