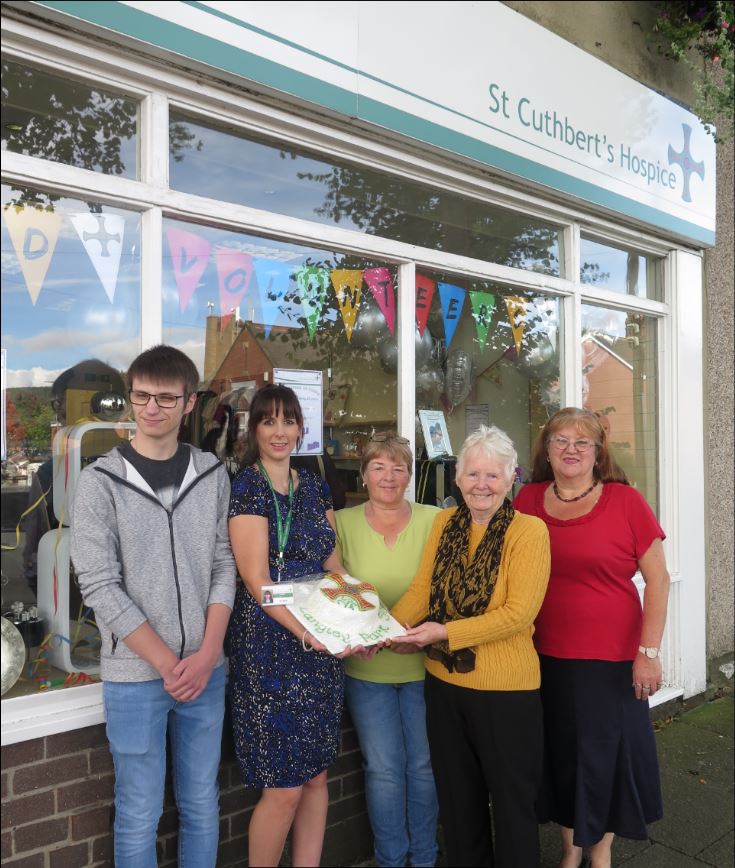 St Cuthbert's Hospice Langley Park Shop has celebrated its 25th Anniversary this month. The shop has built up a reputation in the community over the years for good quality items for sale and a friendly welcoming atmosphere.
Dorothy Cummings and Tracy Chester job share the Retail Manager's role at the shop. Tracy said: "We pride ourselves on being a well-known and well-loved shop in the heart of Langley Park and have received amazing support from the community from day one right up to today. We have lots of regular customers, some who visit us daily. We'd like to say a big thank you to everyone for their support."
The shop on Quebec Street was one of the first shops to open to help support the Hospice and has been staffed by over 40 volunteers over the years.
Tracy said: "I actually started working for St Cuthbert's Hospice as a Retail Volunteer many years ago. I was able to build up the skills needed to apply for a full time paid job for another organisation. I was so grateful to St Cuthbert's for this helping hand towards paid employment, as soon as a job came up to work for St Cuthbert's I jumped at the opportunity."
"We have a real need for more volunteers in the shop and would welcome interest from anyone age 13 and over. We need help almost every day so please do call in if you'd like to offer some of your time. We're a friendly bunch and we've found that many of our volunteers even pop in on days off if passing by just to say hello to one another."
The shop sells an array of high quality clothing, bric-a-brac and small items of furniture, and have a policy of rotating stock every few days to ensure that the many supporters who visit the shop to browse, buy, and very often have a little chat while in store, always have something new to see.
Maureen Saville from Langley Park has volunteered in the shop for the past 20 years. She said: "I've seen many changes over the years but the one thing that has stayed the same is how friendly everyone is. People tell me they can't walk by without popping in. We always need more donations as we've just got busier and busier over the years. I love it!"
Marcia Leathard, Senior Manager and Head of Retail, said "We are very proud to be celebrating the anniversary of Langley Park Shop. We're incredibly grateful to our local communities for their ongoing support both as loyal customers and as generous donors. The invaluable contribution from our volunteers has allowed us to build on the success of our retail operation generating income to support the development of Hospice services and in raising the profile of St Cuthbert's. Thank you to our local communities for their continued support."
St Cuthbert's Hospice Langley Park Shop is open Monday, Tuesday, Thursday, Friday 10-4pm. Wednesday's 10-1pm.
The retail volunteer team at Langley Park Shop comprises a diverse range of ages, skills, knowledge, and experience from a variety of backgrounds. Everyone has something different to offer, and contribute to our development and success. There are currently opportunities to volunteer at the store. To enquire about volunteering at Langley Park or any of the other 8 St Cuthbert's Hospice Retail Shops please contact Volunteer Coordinator Jude Smith on 0191 374 6169 or email volunteer@stcuthbertshospice.com