A COUPLE ensured their last Christmas together was truly magical by tying the knot in an intimate ceremony at St Cuthbert's Hospice.
Jimmy Marshall, from Quaking Houses, near Stanley, popped the question to his long-term partner, Helen Jemson, less than a week before their winter wonderland themed wedding.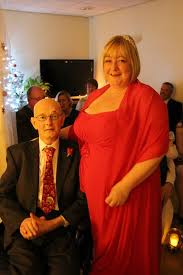 Mr Marshall, 58, was diagnosed with terminal bowel cancer two years ago and has been an inpatient at the Hospice for four weeks.
When our Family Support Team learned of the proposal, staff and volunteers pulled out all the stops to make the couple's dream into a reality.
In just four days, a festive red wedding dress was ordered, a snowflake cake was baked and decorated, invitations were sent to friends and family and the In Patient Unit lounge was transformed into a romantic, candlelit venue.
Registrars from Durham Registry Office kindly agreed to conduct the ceremony and the Guest Services Team prepared a seasonal buffet and drinks reception.
And by 4pm on Thursday, December 17, the stage was set and the couple said their vows in front of close family and friends.
Many of the guests had travelled across the country at a day's notice to attend the wedding and the new Mr and Mrs Marshall said they were deeply moved by the effort people had gone to.
Jimmy, a former painter and decorator, said: "I couldn't believe it when I saw the room. It was amazing. It all happened so quickly and I never expected they would do such a good job."
Helen, 46, said: "I was nervous beforehand but when I walked into the room and saw Jimmy waiting for me the nerves and stress melted away. The room looked beautiful – the hospice did such an amazing job. It was a very emotional day."
The newlyweds, who met at their local cricket club 12 years ago, said staff at St Cuthbert's Hospice had been "fantastic" in the run up to the wedding and throughout Mr Marshall's illness.
"Jimmy first came to the hospice for treatment over a year ago and I remember being so nervous the first time I came," said Mrs Marshall, a civil servant. "I expected it to be scary and depressing and I was dreading it but it wasn't like that at all. Everyone is so welcoming and kind. Nothing is ever too much for them; they will do anything for Jimmy and for me too."
Jimmy added: "It is a brilliant place. They take all of the fear away."
Julie Wells, Family Support Team Manager, said: "When any guest or patient at the hospice asks for anything, all the staff pull together to make it happen, big or small. It was a delight and a privilege to be involved in this really special occasion."