Wednesday 18th October 2023
All day today, for twenty four whole hours, our full clinical running costs have been donated in loving memory of Dawn Bailey with a 'Pay for a Day' donation.
We are extremely grateful for this special donation in her memory which will help us to care for all who need us today. We share below the beautiful words shared with us by her family:
"Today, 18th October 2023, our amazing, fun-loving, colourful, beautiful daughter Dawn would have been 45 years old. It's still hard to accept that she's no longer with us. We all still feel her presence everywhere.
Dawn passed away peacefully in St Cuthbert's on Monday 28th February 2022.
One of Dawn's many passions was music. She loved to sing and had been in several choirs including Brighton City Singers during her time living in Brighton. Following her move back up North, she joined the Rock Choir. Initially she joined the Bradford choir, then, when she moved back home in 2017, she joined the Durham, and then Chester-le-Street choirs.
Dawn was a member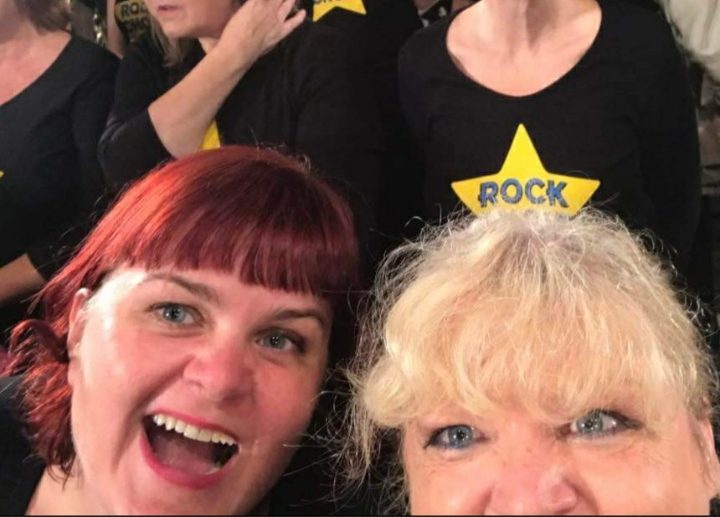 of Rock Choir for almost ten years and loved every minute of it. Not only the singing and performing, but also the incredible friendship and support that Rock Choir provides. Dawn performed all over the country with Rock Choir, one of her most memorable being recording at Abbey Road studios with the Bradford choir.
During Dawn's final days I made the decision to join Rock Choir, taking her place, keen to discover what makes the choir so special. It felt like the right thing to do. David, Dawn's fiance gave me a couple of Dawn's Rock Choir T-shirts, which I still wear for performances. I feel as though she is still with me that way. I can't explain the comfort I felt that first evening when I walked into my first Rock Choir rehearsal in Chester-le-Street. One member recognised me and called me over, telling me "This is where Dawn used to sit." I had mixed emotions sitting in that seat. I had never been in a choir before, so had no idea which harmony part I would sing. I was definitely in the right place, because it soon became apparent that I am a Lower Alto, the same as Dawn. I was surrounded by friends who knew and loved Dawn, who had performed with her over the years. That was, and still is, a great comfort.
Feeling the need to continue to support St Cuthbert's in any way we could, I approached our choir leader, Rob Slater, towards the end of the year and asked if we could perform a fundraising concert in aid of the Hospice. He readily agreed. Plans started to be made. We decided to hold the concert close to Dawn's first anniversary. The concert took place on Sunday 26th February 2023 at Park View Community Centre in Chester-le-Street. Wanting to acknowledge Dawn's passion for Strictly Come Dancing, we called the event 'Keeeep Rocking for St Cuthbert's', the extra e's being a nod to Brucie's catchphrase at the end of each show! The support received from everyone, but especially from Rock Choir members, was totally overwhelming. Donations for the tombola and raffle were brought to each choir rehearsal. The amount we received was unbelievable. I staggered out of rehearsals for weeks, laden down with bags of donations! We announced the event on social media and my younger daughter, Laura, set up a Just Giving page. Donations flooded in. One of Dawn's close friends, Victoria Clarke (Toya), pledged to run 43 miles in February, one for every year of Dawn's life. She too set up a Just Giving Page and linked her fundraising to ours. She ran her final mile around Chester-le-Street park, with friends just before the concert, ending the run at the venue.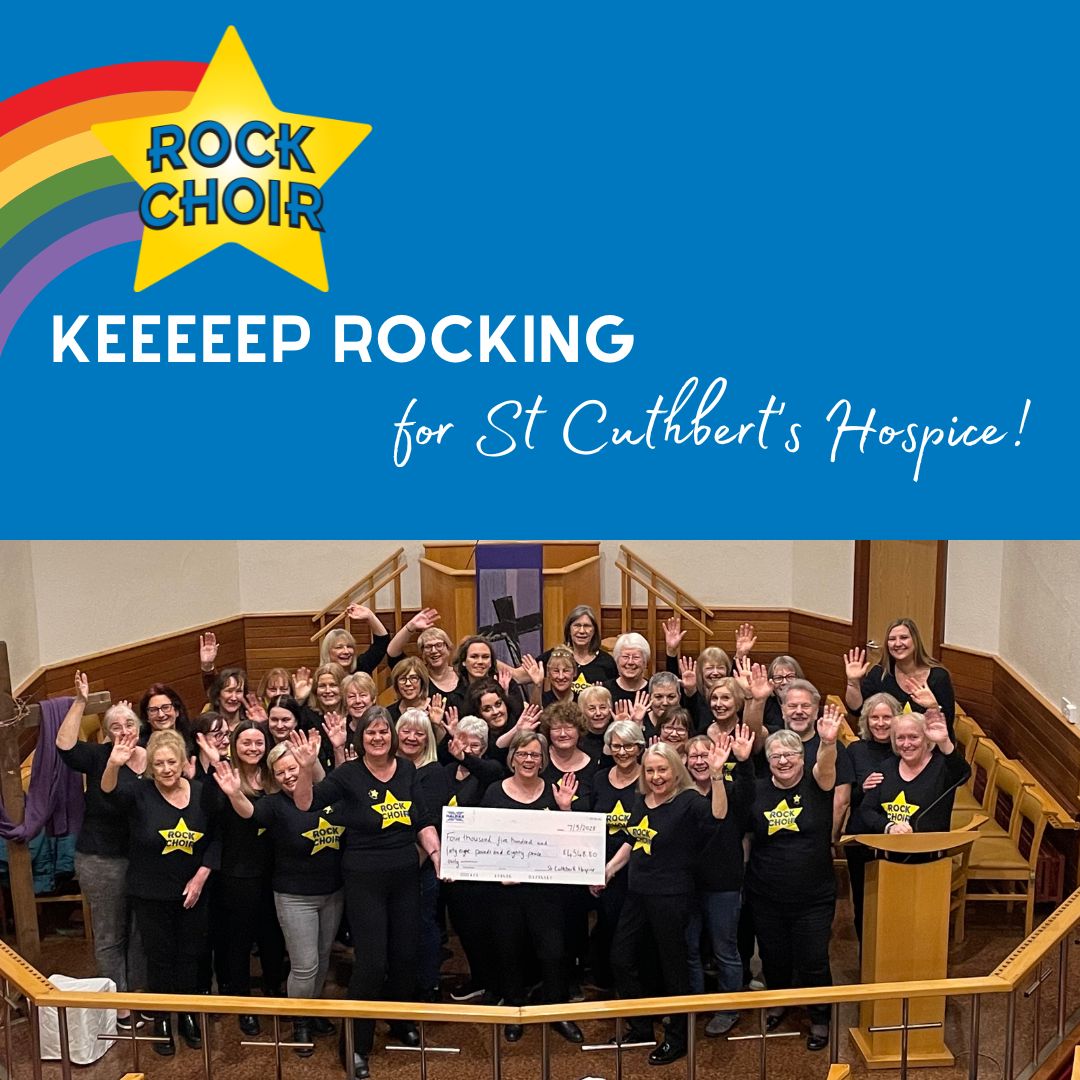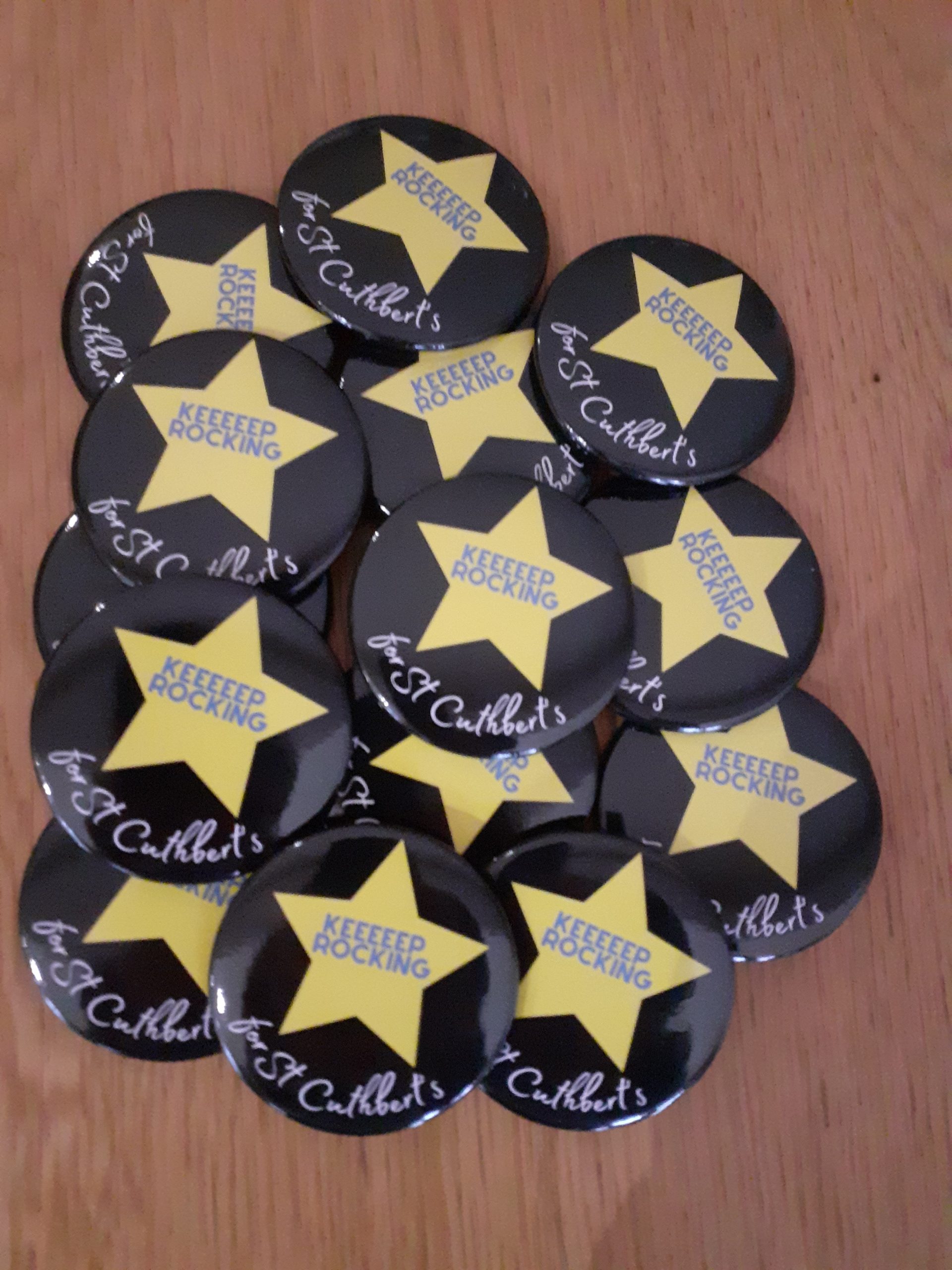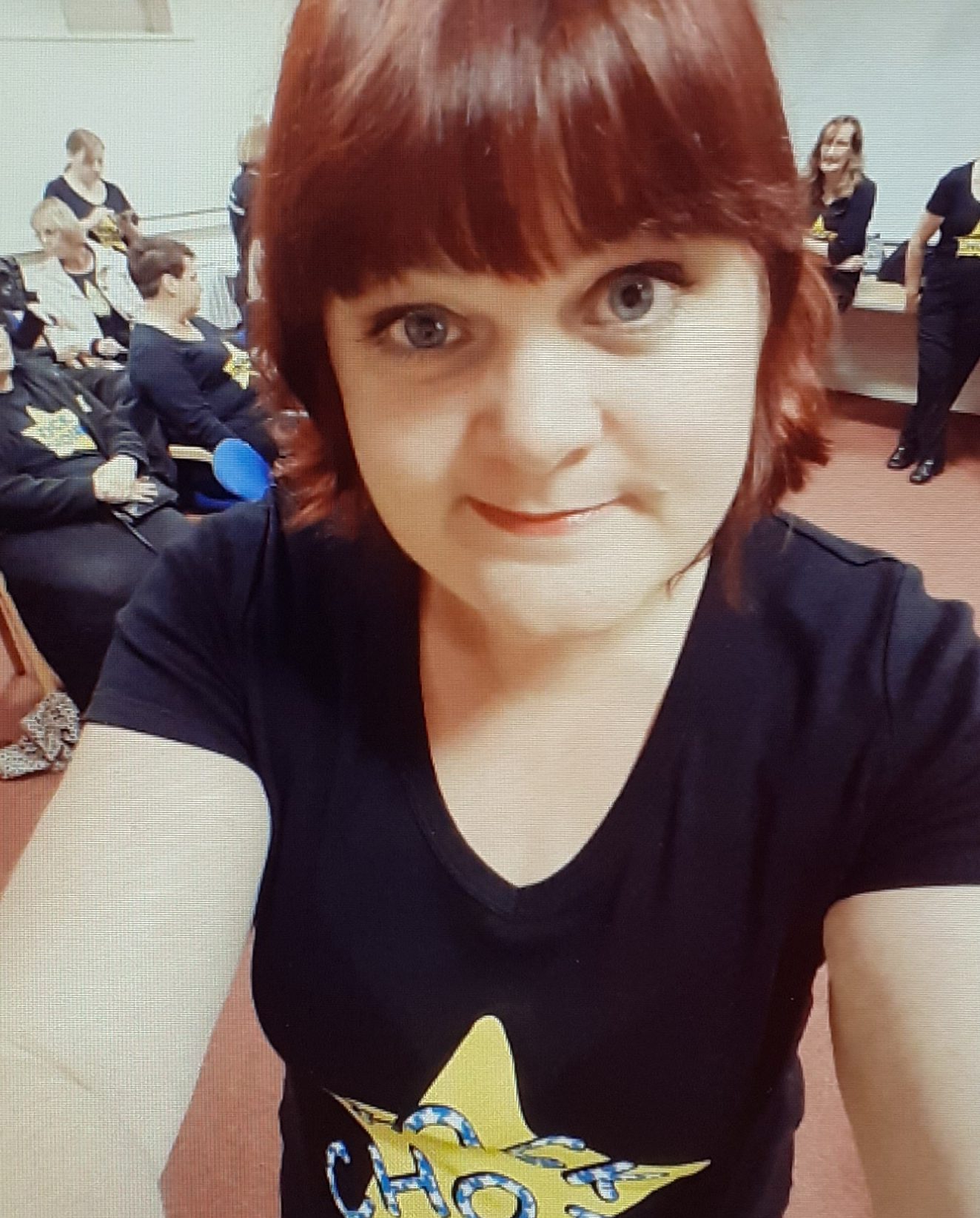 All of the family and a number of friends pulled together on the day. Over a hundred Rock Choir members filled the stage and we all sang our hearts out. The concert was sold out, with 250 people filling the audience. The atmosphere was electric. The event was an overwhelming success and we managed to raise a staggering £4,548.80. We had hoped to raise enough to match the 'Pay for a Day' target of £2,300. We almost managed to double our target.
Nothing can ever take away the pain of losing our daughter, but fundraising in this way, for the Hospice, really helped us all. Deciding to join Rock Choir was the best decision I could have made and helped me so much with the grieving process. The concert was such a success that we are now planning the next one on Sunday 25th February 2024, 2.30pm, at Park View Community Centre. More details will be available soon."
#choosehappy #bemoredawn #missyoudawn