The Bereavement Support Team provide one-to-one counselling support for those living with, affected by, or bereaved through a life-limiting illness. When someone is diagnosed with a life-limiting illness, or someone close to you dies, it's normal to feel a huge range of emotions. Some of which you may never have experienced before. Each person's experience will be different, and perhaps because there's no right or wrong way to grieve this can often mean we struggle to navigate these feelings. Bereavement Counsellor Heather Cook has kindly shared her story about her time at St Cuthbert's and a little of what people may expect if they come for support themselves.
Meet Heather
"I've been a Bereavement Support Counsellor at St Cuthbert's for the past 6 years, and while I might not always remember each and every person's name, I do remember each and every person's story. It's an incredible privilege to work here and support people as I do. There aren't many hospices and other places that offer this vital care to people who need it.
In the first session I try to establish a person's goals from attending counselling; more often than not this is simply to see a way forward through their grief. Its important to help a client to understand grief is a natural and normal process. My role is to be supportive and understanding as they navigate their feelings.
Grief is a unique experience so the counselling I provide needs to be too.
If I feel it's the right approach, I often like to do a task in the first session with pebbles and stones. I start by passing the client a big sharp stone and ask them to describe how it feels in their hands. The sharp and jagged edges represent their grief, its heavy and uncomfortable to hold. I then hand them a smooth stone to hold too. They can still feel the jagged one, but it's not as rough with this alongside. I hand them other stones to represent family, friends, a unique one to represent the unknown that the future might bring, and a beautiful sparkly one to represent their loved one. The sharp stone representing grief is still there, but you learn to live with it and live around it, as time goes on.
During the warmer months, or even on a crisp dry cooler day, it can be helpful to have our sessions out in the gardens at the Hospice. Walking among the beautiful grounds can be a great backdrop to talk. Just recently I walked the gardens with a client, and we stopped and sat for a few minutes at each bench we passed, getting closer and closer to the room where their loved one died. It was a really helpful process for them. I can often be found enjoying a peaceful moment in the gardens in my own time. I love to photograph the flowers each season. It's like my own little therapy.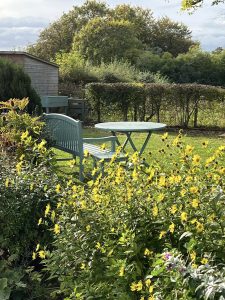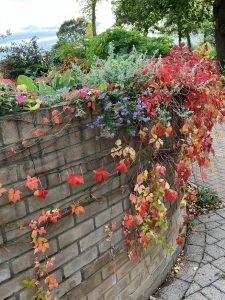 In my early career I was a dental nurse before making the decision to retrain. I had experienced family friends who were unable to get bereavement support and I just wanted to help. After my training I volunteered at the Hospice then applied for the role. I've never looked back. It can be hard knowing we have a waiting list for any new referrals, but I for many people knowing that support is on the horizon can be a big relief.
It can also be tough if I meet people who have experienced the death of a child who was a similar age to my own, or if I meet someone who's lost a loved one then they experience another significant loss. Anniversaries can be particularly hard for people and even things like news stories or tv shows can trigger strong feelings and people need to come back to us for support again.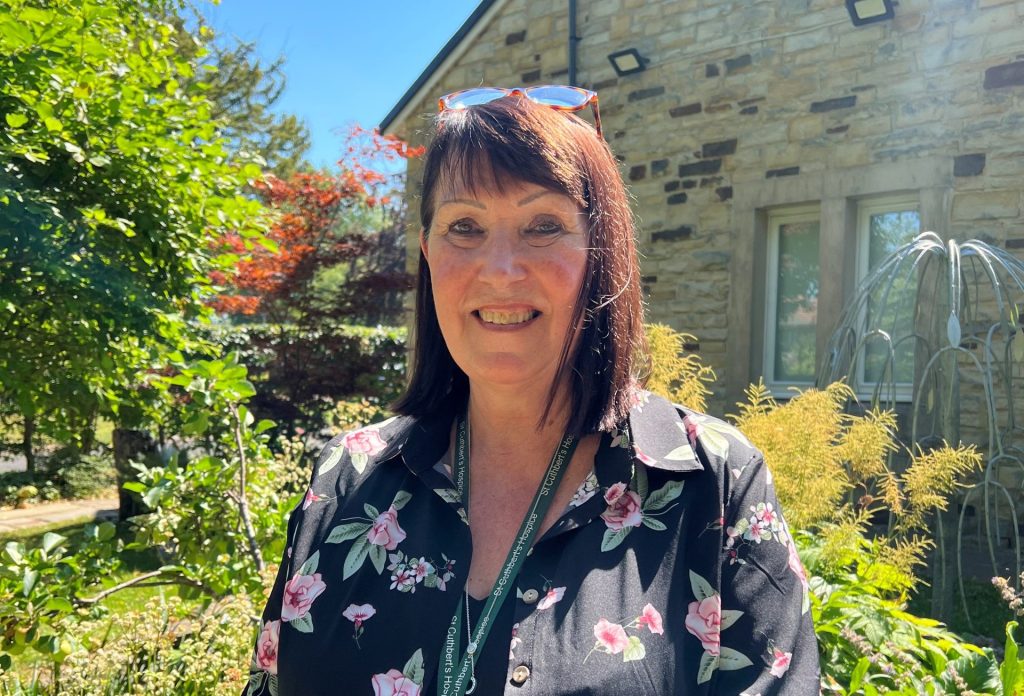 When I do hear feedback from people to let me know how grateful they are for our support it can be quite overwhelming. I'm always mindful that it can be a such big thing for people to come here in the first place, to meet a stranger and share your feelings. In some ways it can be easier to chat to someone neutral than feel like you're going to worry or upset your family if you open up. But it really is such a privilege to listen, support and help people to grow around their grief."
The Bereavement Support Team provide counselling, chaplaincy and social work support to In-Patient and Living Well Centre guests, their families and carers at each stage of their health journey.
This care also extends to people in our community with no connection to the Hospice and we offer a counselling service to adults in County Durham:
who have a life-limiting illness themselves
who have someone they care about that has a life-limiting illness
who have experienced bereavement through a life-limiting illness
This service is both free and confidential. Referrals can be made by any health professional using the forms available on our website. Our Children's Bereavement Team can help children and teenagers to make some sense of their feelings using a range of age-appropriate activities and therapies. Your support helps us to keep these services free for all who need them, at what can be one of the most challenging of times.