Andy was a fantastic husband to me and an amazing Dad to our 6 year old, Nathan. He was a loving son and brother, a fun uncle and a loyal, caring friend to many. Andy was kind, incredibly funny and he made friends easily. He liked to keep fit and took part in events such as the Great North Run to help raise funds for St Cuthbert's Hospice. Andy loved life, he was seldom seen without a smile on his face and today he should have been celebrating his 49th birthday. 
Andy passed away August 2nd 2020, having been diagnosed with thyroid cancer 19 months earlier. He faced his illness with bravery and a positive attitude. Initially Andy was reluctant to attend St Cuthbert's Hospice, believing it was a place people only went in their final days. He quickly came to realise St Cuthbert's was a friendly, vibrant and caring place which offered much more than just end of life care.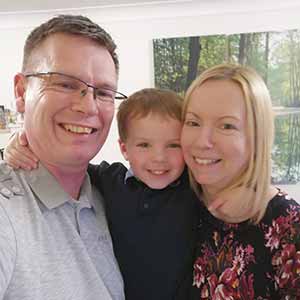 In the year before lockdown, Andy regularly attended the Living Well Centre where he received reiki sessions and counselling. He was helped with symptom control and pain management. St Cuthbert's was a place of sanctuary for him. When it came to his final days he was grateful to be offered a bed in the In-Patient Unit where he was cared for by a dedicated team of professionals. I feel very fortunate to have had this wonderful facility available to guide and support both Andy and our family throughout his illness.  
Following Andy's death I set up a fundraising page in his memory. He'd be extremely humbled and proud to know that our families and his many friends generously donated enough money to 'Pay For a Day'.
On 29th June 2021, for twenty four whole hours, our full clinical running costs have been donated in loving memory of Andy Rennison with a 'Pay for a Day' donation. We are extremely grateful for this special donation and the beautiful words shared by his wife Karen.