Monday 24th January 2022
All day today, for twenty four whole hours, our full clinical running costs have been donated in loving memory of Jason Brown with a 'Pay for a Day' donation.
Jason's family kindly shared these words with us: "January 24th would have been Jason's 49th birthday. It's fantastic that Steve Meikle and his friends have completed their challenge of walking from the Forth Bridge in Scotland back to the Hospice and raised a staggering amount of money for St Cuthberts Hospice in the process. We're really touched that they have chosen to honour Jason today by paying for a day of care in his name."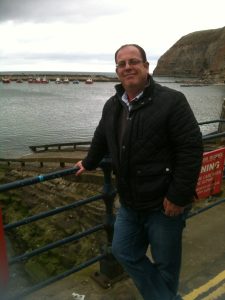 "In 2014 Jason was diagnosed with stomach cancer and spent the last few weeks of his life at St Cuthbert's Hospice. The diagnosis was a shock, as was the prognosis, but the Hospice and their staff were a great support to myself, our children, our family and Jason's friends. They made his time there comfortable and allowed for everyone to visit him and say their goodbyes."
"His room was never empty and was always full of laughter. Jason was a loving, caring and supportive family man and friend. He always had a smile on his face and a story to tell. Eight years on from his death Jason still makes us smile and as we reminisce about our adventures together."
We are extremely grateful for this special donation in Jason's memory.