On New Year's Eve 8 year old Daniel Bell told his family that his resolution for 2018 was to raise more money for charity. Daniel chose St Cuthbert's Hospice as we are a charity close to the family's heart. The challenge Daniel set his sights on was 30/30. 30 days, 30 miles, £30. For 30 days he would complete one mile per day, in whichever way he wanted, and aim to raise £30 in aid of St Cuthbert's.
Every day in January Daniel headed outside and walked, scooted or jogged (dressed in his onsie!). Even the bad weather didn't stop him as he headed out to complete his mile on his sledge! Team Bell helped out too with big sister Emily, 10, joining in from time to time, along with Mam Sarah.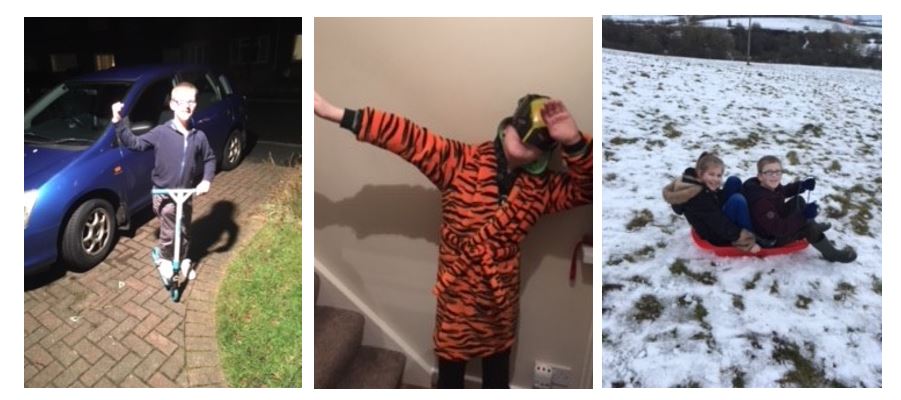 Sarah told us: "Daniel and his big sister Emily thoroughly enjoyed their fundraising challenge and supporting St Cuthbert's Hospice, a charity they've grown up knowing about. When they were very little, my Grandad received respite care at the Hospice and then later my Nanna received end of life care at the In Patient's Unit. My Mam Susan now volunteers one afternoon a week on the hospice reception, as a way of giving back to St Cuthbert's for the wonderful care and support given to all our family. Over the years we've helped out at events and one year even helped throwing paint at Colourama which was great fun, and the kids loved it!"
Daniel raised a huge £205 in sponsorship in completing his 30/30 challenge, an incredible start to his New Year's Resolution. We'd like to say thank you so much to Daniel and Team Bell and good luck for the rest of the year.
Good Luck Daniel!
If you would like to complete your own 30/30 challenge click HERE for more information. You can pick any day to start and any method to complete your miles!