ENTERPRISING students put their blossoming business skills to good use when they staged a charity Christmas Fair this week.
Teenagers from New College in Durham raised £460 for St Cuthbert's Hospice and The Lily Foundation, a charity which supports children and families affected by mitochondrial disease.
Many of those involved are business students and the talented teens drew upon their studies to raise as much money as possible.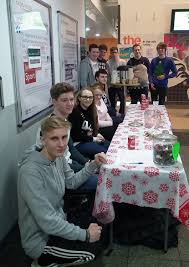 From negotiating with local businesses for discounted rates and free raffle prizes, to ensuring their stalls were visually appealing to customers, they pulled out all the stops.
Henry Johnson, 17, raised £200 by hosting a charity night at his home for friends and family, while Courtney Bunker, 18, secured a £100 donation from a generous relative.
Others baked cakes, served hot chocolates and organised games and competitions.
Sue Webster, a business studies lecturer, at New College, said: "I am very proud of the students. They have worked so hard and really encouraged one another. It is wonderful to support charities, especially those with personal significance to staff and students."
The college supported the Hospice in memory of Julia Grant, the sister of business apprenticeship co-ordinator Christine Tait. Julia passed away here in October 2014.
Christine, who also took part in our Colourama event in June, said: "Everyone at the Hospice was wonderful. They treated my sister so well and looked after the whole family. I can't praise them enough."
Sue's late granddaughter Sophia Capstick, who died when she was just eight months old, inspired the college to raise funds for The Lily Foundation.
Everyone at St Cuthbert's would like to thank the staff and students at New College for their support.
Each year, we must raise £1.3m to continue providing outstanding palliative care to those affected by life-limiting illness in County Durham.
Support from the local community and organisations such as New College is vital.