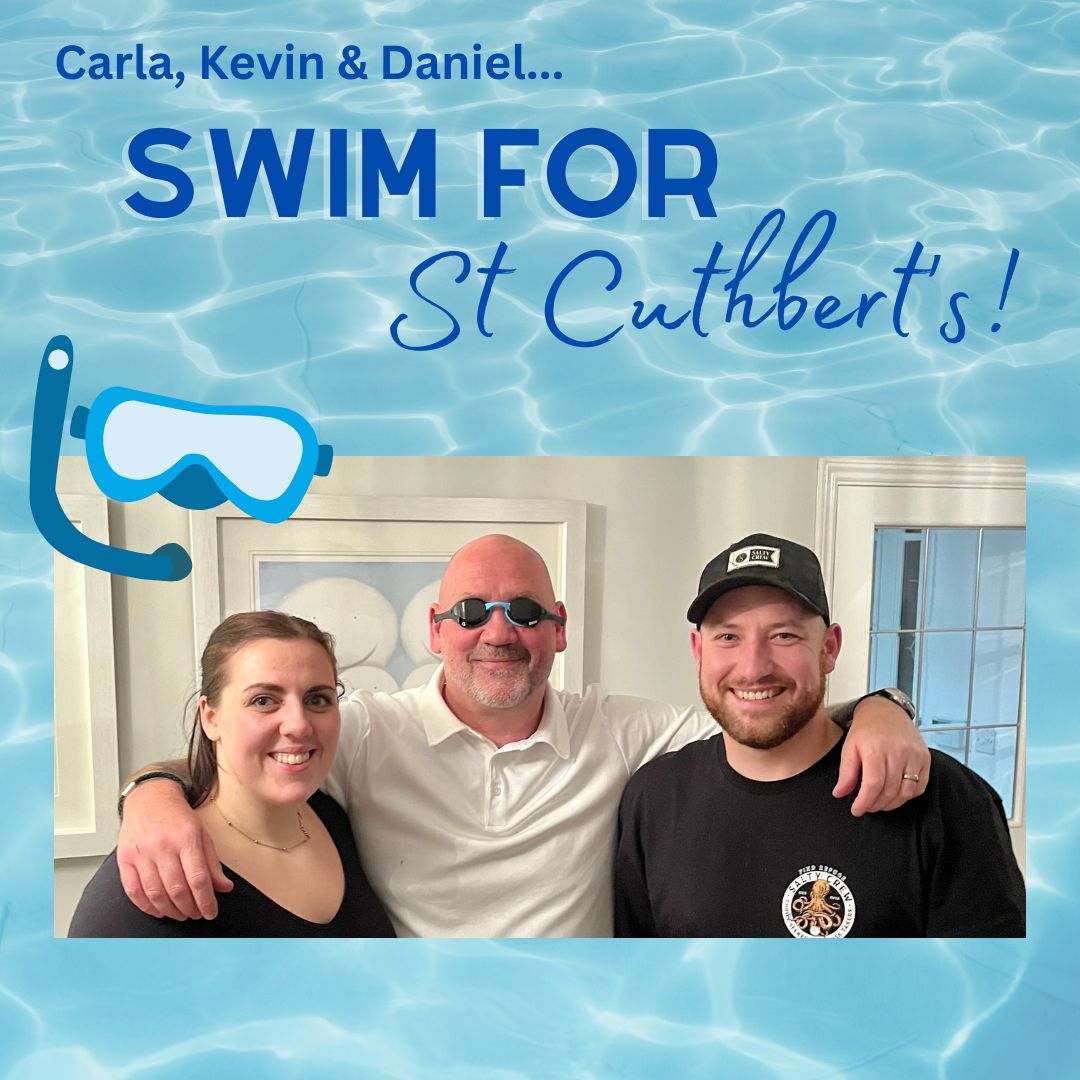 Carla McMullen and her family are no strangers to completing amazing fundraising feats for St Cuthbert's Hospice, Durham. In 2018, they organised a 48-hour cycle and in 2020 they cycled 100 miles during lockdown, raising vital funds for the Hospice where their family members were cared for. 
Now, Carla, dad Kevin and brother Daniel are taking to the water to swim a marathon for the local charity which is close to their hearts, and they have already raised a phenomenal £1,300 before even dipping a toe in the water.  
The swimathon takes place on Friday 25th November at 7am, at Freeman's Quay Leisure Centre, Durham and will see the family swim 563 lengths of a 25m pool each, all in one day! 
Carla said: "St Cuthbert's Hospice holds a special place in my families' hearts. We were first introduced to St Cuthbert's Hospice in 2016 when the out of hours team stepped in to help care for my Grandad Charles, before he sadly passed away in January 2016. Shortly after that, in April 2016, my Nanny Mary was taken into St Cuthbert's Hospice to be cared for by the specialist teams in the last few days of her life. 
We again had to reach out to the Hospice in 2018, after my Step Mam's Mam required care from the Hospice before passing away in January 2018. 
The skill, passion and professionalism shown by the nurses and staff within the Hospice is second to none. The support provided to not only their patients, but families during grief was amazing. When you step foot into the Hospice, it's hard not to notice the positivity of the nurses, everyone in the building really does want the place to be as comforting and homely as possible."  
St Cuthbert's Hospice Community Fundraiser Erin Wright said:
"We've been amazed looking back over the years that the McMullen family have supported us and the incredible challenges they've taken on to raise funds for us. It's heart-breaking to hear that as a family they've relied on our care on three occasions, but I know they get great comfort from the thought that their fundraising efforts are helping other families in need of our support. We can't wait to cheer them on poolside and know they'll be giving it everything they've got." 
To donate and support the McMullen family please visit Carla's JustGiving Page – https://www.justgiving.com/fundraising/carla-mcmullen3