New Look Offers Festive Discount To St Cuthbert's Hospice Supporters
We're teaming up with fashion retailer New Look this Christmas to offer shoppers in Durham an extra big thank you for supporting the charity.
Following a successful pilot in the summer, New Look is launching a new customer discount initiative to support hospice care by encouraging more people to donate goods to their local hospice shops, and our Durham Shop is taking part.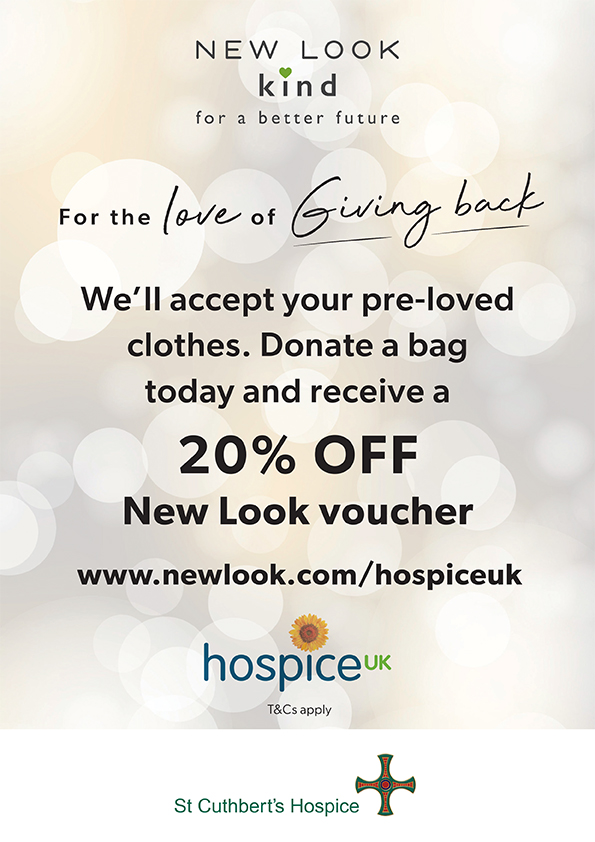 We will be offering a 20% discount voucher to anyone who drops in a full bag of donations at the hospice shop on Claypath, before January 13. The shop is one of over 200 taking part in the programme across the UK.
Under the scheme, running in partnership with national hospice and end of life care charity Hospice UK, donors will receive a voucher which they will be able to spend at New Look's store in Durham, which is only a short walk from the hospice shop.
"As a company, we really care about being kind to our people and to our planet, therefore we want to make it easy for our customers to recycle their unwanted clothes whilst helping to reduce the amount of clothing waste that ends up in landfill. New Look is very excited about this partnership with Hospice UK to encourage our customers to donate their once loved clothes to their local hospice shop." Nigel Oddy, Chief Executive Officer, New Look.
"Following the successful pilot for this initiative over the summer, we are delighted to be rolling this out nationally. It is wonderful to have such as well-recognised brand as New Look working in partnership with us. Their support makes such a big difference in helping to increase public awareness about the care available to people with life-limiting conditions and their families." Meghan Booth, Business Development Manager, Hospice UK.
Marcia Leathard, Head of Retail at St Cuthbert's: "It's wonderful working with New Look on this project. It helps people declutter before Christmas and do something useful with your pre-loved clothes. We're grateful for all the support we get from people in Durham, and this scheme lets them help us and get an even better deal from their local branch of New Look."
Every item bought in one of our eight Hospice's shops helps the charity to provide care for local people and their families living with a life-limiting illness.
The Durham shop sells clothing, accessories and jewellery, household items, bric-a-brac, books, CDs and DVDs, toys and games.
16/12/2019