St Cuthbert's Hospice brought the community together last night for a moving candlelit remembrance service in Durham Cathedral.
Every December, we hold a Light Up a Life service to provide a meaningful way for people to reflect on loved ones who have passed away.
This year, the pews were full once again, with hundreds of people making the poignant procession up the aisle to light a candle in memory of someone special.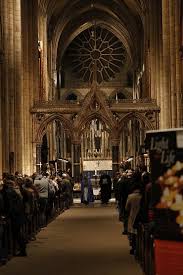 At the start of the service the cathedral was plunged into darkness as the Paschal candle was lit.
The choir then began to sing  "Kindle a flame to lighten the dark, and take all fear away" and, as the congregation took up chant, the majestic building gradually filled with light.
Durham Singers and The Durham Miners' Association Brass Band provided a musical accompaniment to the service, which also included poetry, prayers and bible readings.
Memory cards were handed out for people to write down the names of friends and relatives who are no longer with us and these will be stored in a basket in our quiet room for a year.
More than 500 names were also included in two Books of Remembrance, provided by Light Up A Life sponsor Stuart Wright Funeral Service, in return for a donation to the Hospice.
These were blessed by the Acting Dean of Durham Cathedral Canon David Kennedy who led the service.
Kay Carrick, Senior Donor Development Fundraiser, said: "It was heart-warming to see the whole community come together to support each other and the Hospice at this very special time of year.
"Lighting a candle is  a simple yet beautiful way to pay tribute to a lost loved one and I hope those who attended Light Up a Life found it as comforting and uplifting as we did.
"We would like to thank Durham Cathedral, Durham Miners' Association Brass Band, Durham Singers, Stuart Wright and everyone else who supported the event."