THE inaugural St Cuthbert's Hospice Family Fireworks Night went off with a spectacular bang raising almost £15,000.
More than 3,500 people attended the event at Framwellgate School – making it our biggest fundraiser to date.
It was also the first fireworks extravaganza to take place in Durham City for four years and we have been inundated with positive feedback from supporters of all ages.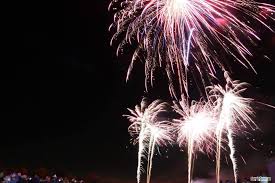 Impact Pyrotechnics pulled out all the stops to ensure it was an unforgettable night, staging a breath-taking display set to the upbeat sounds of Robbie William's Let Me Entertain You, Bruno Mars' Uptown Funk and Katie Perry's Firework.
Refreshments were also on sale and a funfair kept youngsters entertained.
Event organiser Jade McArdle said: "It was a fantastic night and it was wonderful to hear the gasps of excitement from the crowd every time a firework went off.
"This is the first time we have staged a fireworks display and we were only expecting about 1,000 people; to achieve a turnout of 3,500 is truly amazing.
"We would like to thank everyone who supported the event, especially Framwellgate School for providing a fantastic venue, Impact Pyrotechnics for staging a night to remember and our volunteers for helping to ensure the event ran smoothly."
Katie Adams, from Framwellgate Moor, did not have to travel far to enjoy the show.
"It was a fantastic night," she said. "I'm so glad such a great amount of money was raised for such a worthy cause. I hope it becomes an annual event."
Another attendee said: "Fantastic fireworks display. You should be proud as it was very well organised and we would love to attend again next year if you do it again. Thank you for a great night and the opportunity to look up and remember my cousin who you cared for in her final days."
The money raised will help us continue to provide all-embracing, compassionate and individualised care to people affected by life-limiting illnesses.
Thank you again to everyone who helped make this event a big success.
For regular updates from St Cuthbert's Hospice, follow @StCuthsHospice on Twitter or St Cuthbert's Hospice on Facebook