Retired Fireman Ken Allday, 89, has donated one of his most prized possessions, his 2012 Olympic Torch, to us at St Cuthbert's Hospice. Ken lost his soul mate Joan to cancer in 2010 when she died peacefully at our Hospice and he credits our team for keeping him going all the years since.
"I owe the Hospice so very much. They were there for me when I needed picking back up. If it hadn't been for them I would have never been an Olympic Torchbearer so it's only right that they have it now. It has always been my wish to leave it to them, but doing it now while I can have the memories from handing it over means everything to me."
Ken from Newton Hall was so inspired by the care and love he received at the Hospice after losing his wife that he set about fundraising and also volunteered for us for 5 years. He was nominated by Hospice staff to become an Olympic torchbearer for the 2012 London Olympics, which saw Ken walk a stretch through Sniperley, Durham, in the lead up to the Olympics opening ceremony.
Speaking of his experience at the Hospice Ken said: "I never imagined a life without Joan. We were married for 56 years. The day she was diagnosed with cancer of the oesophagus we came home from the Royal Victoria Infirmary, Newcastle and stood in the middle of our lounge together in silence. It was Christmas Eve and the snow fell against our windows. We were heartbroken."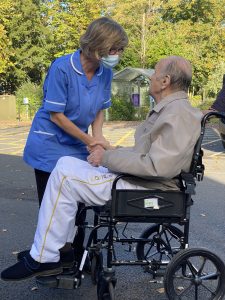 "As Joan grew weaker, she knew that time was running out and she didn't want to die in a hospital. 'I want to go to St Cuthbert's' she said. I was anxious at first, but when Joan moved into her hospice room in late February 2010, I could see the happiness on her face. It was warm and welcoming and the staff were so patient and caring. Joan was never in pain. We sat together on the veranda off her room and watched squirrels and birds play in the gardens. 'I'm next door to heaven here' she whispered. The staff are angels."
On the 8th of March 2010, ten days after she was admitted to St Cuthbert's, a nurse called to say that Joan was slipping away.
"My son Steven had travelled over from Australia, and we both sat by her bed. As I took Joan's hand, she opened her eyes and smiled. 'Hello mate' she whispered. 'Do you mind if I go to sleep?' I knew that if she closed her eyes, I'd never hear her voice again. But I had to give her my blessing. 'Of course not, my darling' I smiled. My wonderful wife closed her eyes and slipped away."
"Losing Joan was like losing a part of me. I really was lost without her. Everyone at St Cuthbert's Hospice were there to pick up the pieces. I was so grateful they'd been there for Joan's final days and they were there for me too. Every week after, I visited so I could feel close to Joan. They became like an extended family, I'd have fallen apart without them."
"I needed to keep busy so as well as volunteering for them I decided to raise some money to help to repay the love and support they gave Joan and me. In 2011, I flew to Australia and Steven and I climbed the Sydney Harbour Bridge, I was 79 at the time. I raised £1,671 and as I watched the sunset from 134 meters above the city, I knew Joan would have been so proud of me."
The torch was accepted by the longest-serving member of staff at St Cuthbert's Hospice Living Well Centre Healthcare Assistant Rachel Eddy, who has worked at St Cuthbert's for 21 years.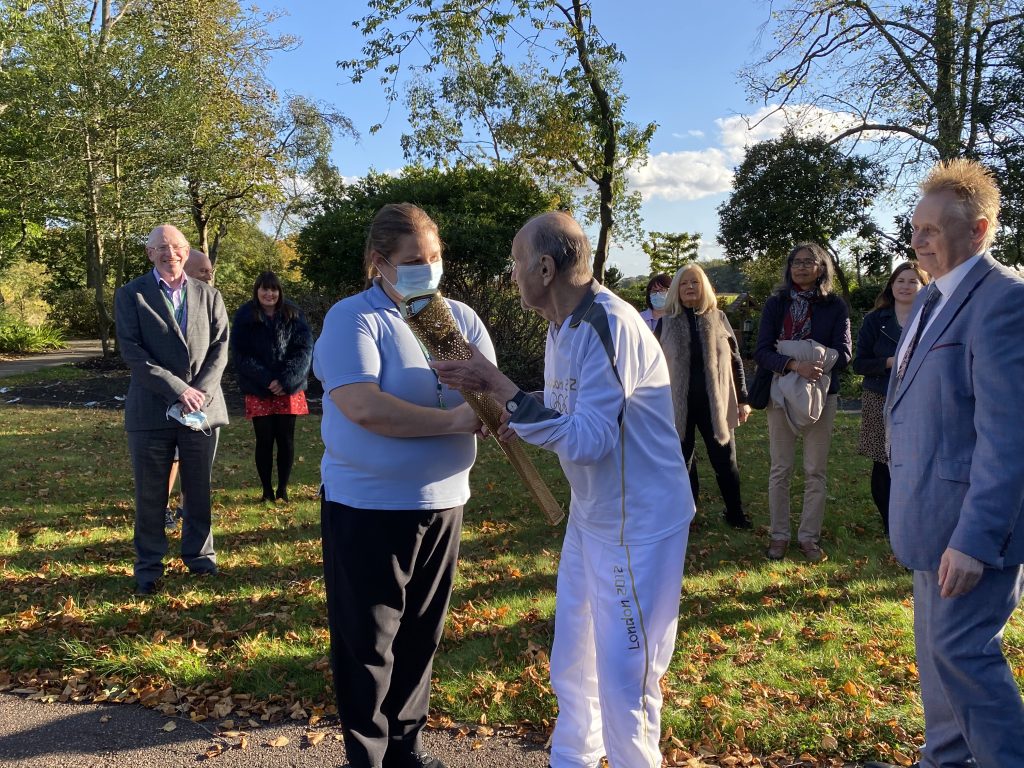 Ken added: "Joan wouldn't have believed that I would go on to become an Olympic Torchbearer in 2012. It was an amazing honour to represent St Cuthbert's Hospice that day. It's a special place and I hold them all dear to my heart. In all the years I've volunteered I've never heard a bad word about the place, no cross words or arguments. They're wonderful people. They got me through the most difficult time of my life. For that, I'm forever grateful. They'll always have such a big place in my heart."