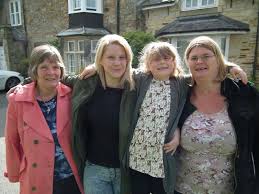 Four generations of one family are among over 1,200 who have now signed up  for a hospice's upcoming Colourama paint event.
Lexie Morgan Duffy, six, her Great grandma Janet Morgan, her nan Michelle Morgan-Black and mum, Kimberley Morgan have given their backing to the St Cuthbert's Hospice big day out at Aykley Heads, Durham, in which participants walk or run a five kilometre course and pass through paint stations where natural, non-toxic paint is thrown.
The family, from Newton Aycliffe, who have supported the hospice for many years, are taking part in memory of Lexie's big sister, Libby who died of a brain tumour. Also, because Janet has had cancer and says she would prefer to be treated at a hospice.
She said: "I could have needed the hospice already and it's just nice to know there's something like this to come to. Rather than spend your last few days or last few weeks on a hospital ward.
Michelle said: "All four of us will be doing Colourama. We think it's going to be a lot of fun. We will be proud to walk together. Lexie will be standing there asking for them to throw the paint on her!"
Little Lexie said: "I like all the different colours chucked at me. I love getting messed up."
Sheela Joy, a senior fundraiser at  the hospice, said: "We are delighted that Janet Michelle, Kimberley and Lexie are going to Colourama and supporting the hospice.
We are all about families and for four generations to come together for us in this way is just wonderful."
Registrations for the event close at midnight on Saturday, May 30th.
PHOTO 1 Janet Morgan, Kimberley Morgan, Michelle Morgan-Black with little Lexis Morgan Duffy