Pushing their boundaries!
Huge congratulations are in order for the 'pushing the boundaries' team after they successfully completed a non-stop 170 mile walk around the boundary of County Durham.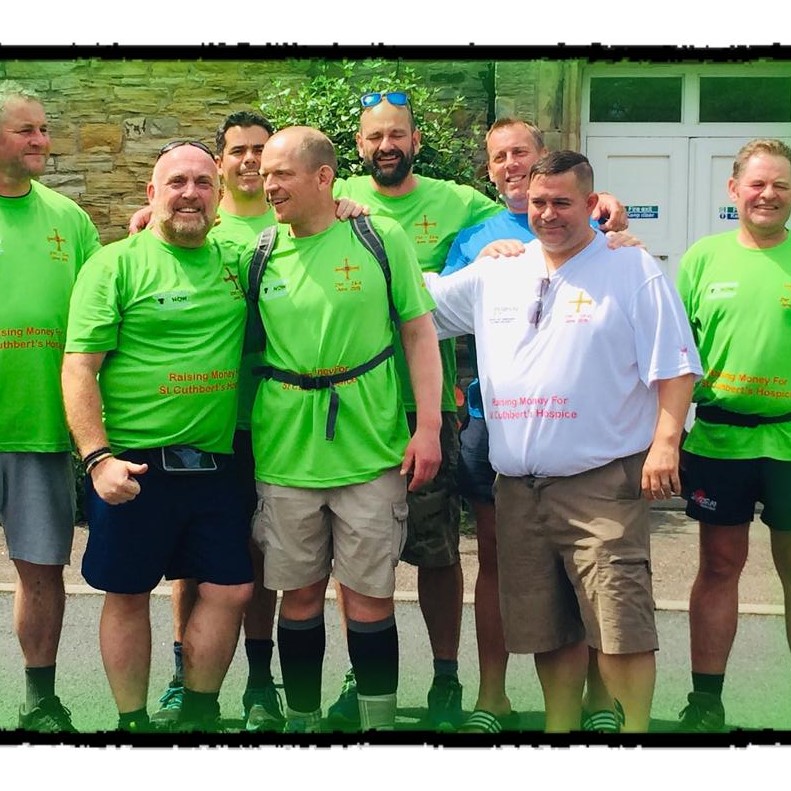 The group of nine men, including members of Durham City Rugby Club, set off on the route known as 'The Durham Round' on 21st June and returned on Sunday 23rd, taking under 50 hours to complete the walk. Two teams of four interchanged throughout the route, allowing the other members to rest and eat in the support vehicle driven by the ninth team member and kindly provided by Team Cycles.
Steve Meikle who took part told us: "We're fantastically happy that we did it. It really is the toughest thing I've ever done. The exhaustion was something else, walking round the clock meant large portions of the route were at night time which was quite challenging especially around Weardale. We're all aching a bit now to say the least but it's so worth it to have raised well over £6,000, and counting, for the Hospice."
St Cuthbert's Hospice must raise over £2 million each year to continue to offer its many services, free of charge, to people in County Durham with life-limiting illnesses. The money raised by the men will go a long way to help support families in the county who need our care.
Alex Rae who also took part said: "We all have our different reasons for supporting St Cuthbert's but the Hospice is particularly special to me as my father currently attends the Sporting Memories group at the Living Well Centre. It's a huge help to him in so many ways. My wife has volunteered in the kitchens for a number of years as her father also attended St Cuthbert's. Steve, Mike and Knighty are walking in memory of their friend Jason Brown who was cared for there too, so it's a big part of our lives."
If you think you could take on your own challenge for St Cuthbert's then we would love to hear from you. Visit our FUNDRAISING pages for inspiration.
To sponsor the team please visit: https://www.justgiving.com/fundraising/steven-meikle2?utm_campaign=pfp-email&utm_content=Steven-Meikle2&utm_medium=fundraisingpage&utm_source=Sharethis&utm_term=4K2N4y2yR&sfns=mo
28/06/2019