DURHAM Cathedral will host a poignant service next month for people of all faiths and backgrounds to celebrate the lives of lost loved ones.
St Cuthbert's Hospice understands how difficult Christmas can be when a beloved friend or relative has died.
Every year, we invite people to attend Light Up a Life, a special remembrance service where families and individuals can light tea lights on behalf of those who have passed away.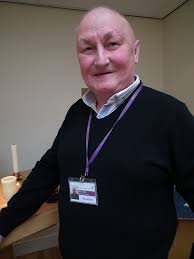 This year, Eric Liddle, from Esh Winning, will be among the hundreds taking part in the poignant procession at Durham Cathedral at 7pm on Sunday, December 13.
The 57-year-old said the previous service gave him the strength to get through his first Christmas without his much-loved partner of 13 years, Christine Potts.
Eric said:  "It felt like there was a bond between each and every one of the people in the cathedral.
"It made me feel better inside. Being so close with the people there. The fact all those people had been bereaved too. I think I will go every year now until my time comes."
Christine died at St Cuthbert's Hospice in February 2014 and in the last fortnight staff brought a bed into her room so Eric could sleep next to her.
"I won't ever forget her and Light Up a Life was a wonderful way of remembering her," said Eric, who is now a volunteer at the Hospice.
Kay Carrick, a senior fundraiser at the Hospice, added: "Light Up a Life always feels like a very special night. It is lovely to take some time away from the busy festivities and spend a few moments reflecting on those who are no longer with us. It is also amazing to see so many people supporting the hospice in this way."
All those remembered at the service will have their name entered in a Book of Remembrance and will receive a commemorative card and a choice of either a photo star or pin badge as a thank you for their donation.
To donate to the Light up a Life campaign, kindly sponsored by Stuart Wright Funeral Services, contact Kay on 0191-374 -6175 or click here.
The average donation per name remembered in 2014 was £18.50 and nearly £12,000 was raised for St Cuthbert's Hospice.