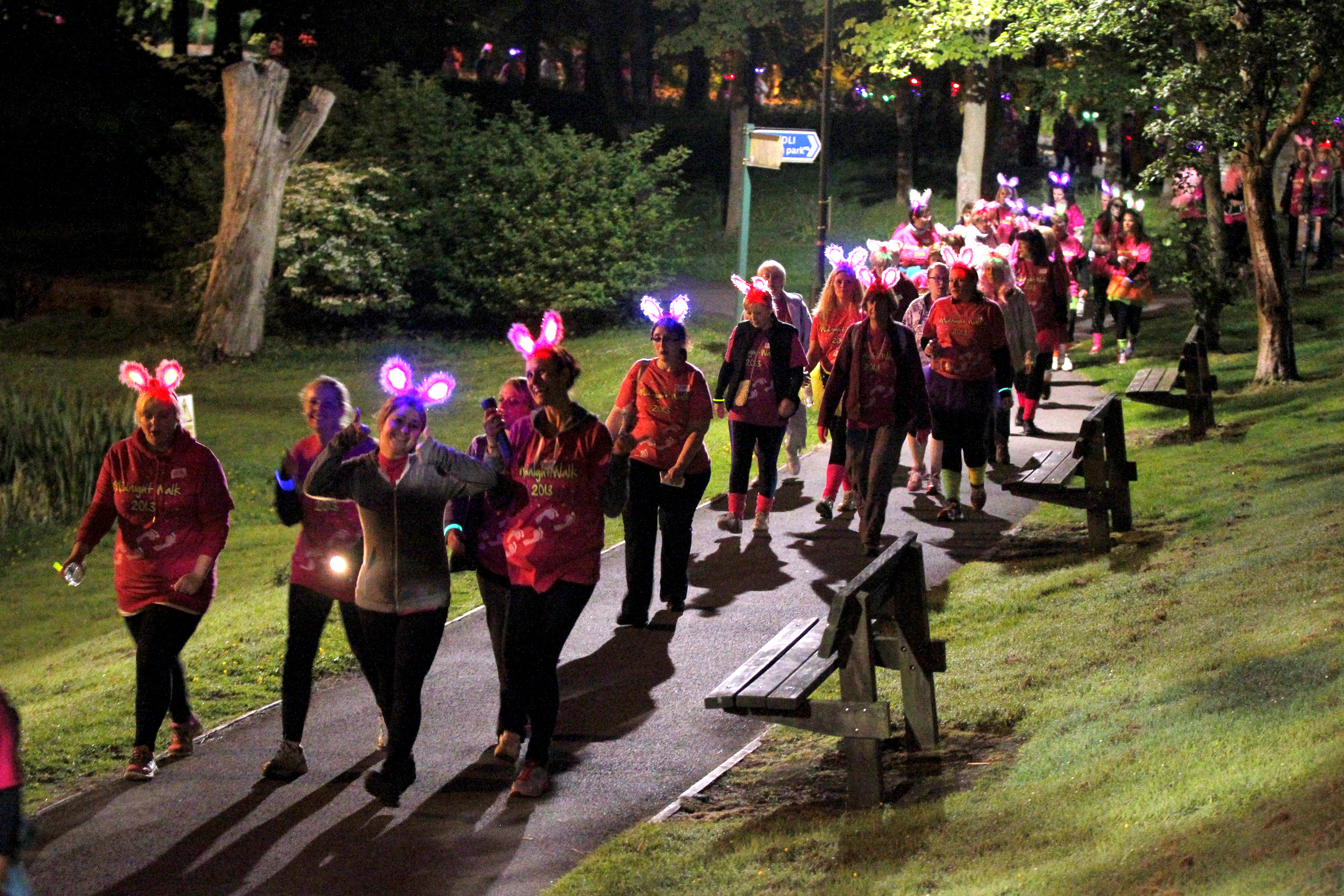 Midnight Walk first took place in 2007 and quickly became a popular event with hundreds of local women dressing up and striding out in support of the local charity, and raising thousands of pounds in doing so.
The event last took place in June 2014 and helped to raise over £480,000 for the charity.
Jade McArdle, Senior Community & Events Fundraiser, said: "So many people tell us how much they miss Midnight Walk and would love for us to bring it back. The event holds a special place in many people's memories."
"It's remembered fondly for a real camaraderie between the participants, a party atmosphere, a chance to dress up, loads of light up accessories and just being a great night out for a great cause. The photos from previous years say it all really, lots of smiles and lots of fun."
"As St Cuthbert's is celebrating its 30th anniversary this year, we decided to bring back Midnight Walk. It will take place on Saturday 22nd September which is the actual date that the Hospice first opened its doors back in 1988."
Traditionally a ladies only event, this year everyone is invited to take part.
"We made the decision to open the event up to everyone, as over the years we have had numerous requests for men and children to take part too. Now is the time to refresh the event and ensure it appeals to as many people as possible."
"We hope women who have taken part year after year will be reassured that the unique atmosphere of this mass participation event will remain intact. They can choose to walk with other women – or invite their husbands, fathers, brothers and male friends to unite with them – walking for a worthwhile cause."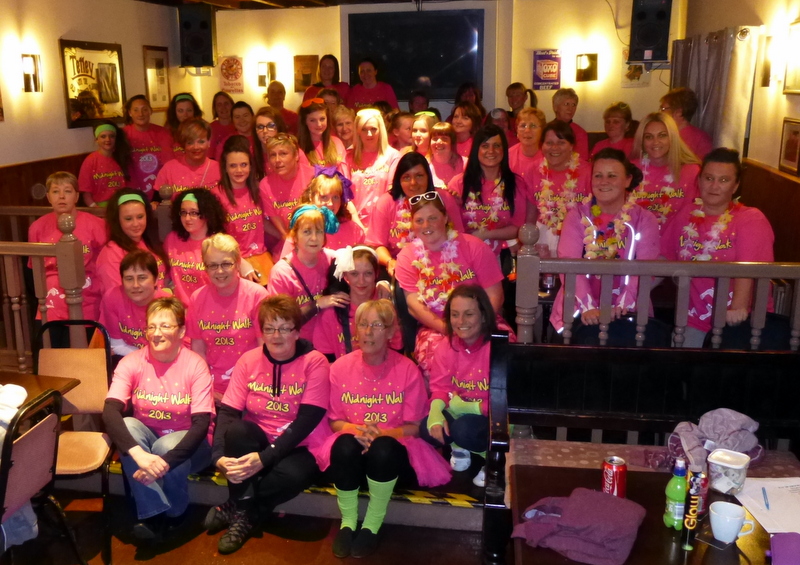 A 23-strong team known as 'The Lambton Ladies' were among the first to sign up to the returning event. The group leader and landlady of the Lambton Arms, in Sherburn Village, Kathryn Allot, first took part in Midnight Walk in 2010 after her best friend Sheila Walton received care at the hospice.
Kathryn said: "I'm so happy that Midnight Walk is back for 2018, it is such a special event and I was one of the people calling up the Hospice asking if they'd bring it back."
"When we first took part in 2010 my friend Sheila was receiving care at St Cuthbert's after a lung cancer diagnosis. If I'm honest I didn't know much about the Hospice until that time."
The ladies had been friends for 30 years and completed the walk just months before Sheila, 52, died.
Kathryn said: "St Cuthbert's helped us all so much, they gave us support in every area we needed. The year after Sheila died we took part in Midnight Walk in her memory which was really hard to do without her."
"Sheila had told her grandchildren to look at the stars at night and the brightest twinkling one would be her. Being in the dark at Midnight Walk and looking up to the stars really brings it back."
"There's something special about being together in the darkness surrounded by hundreds of people all wearing lights. I'm looking forward to taking part again and will have Sheila in my thoughts."
Also taking part this year is Adele Anderson from Fence Houses. Adele and her family took part in the last Midnight Walk in June 2014, on the evening after her Mam, Ashleigh Lynn, passed away at the Hospice.
Ashleigh had battled cancer for 6 years and was a guest at the Day Hospice where she made many friends and enjoyed the activities as well as the socialisation. Sadly in early June 2014 Ashleigh was told the disease had spread to her spinal fluid and she had become too poorly to receive treatment for this.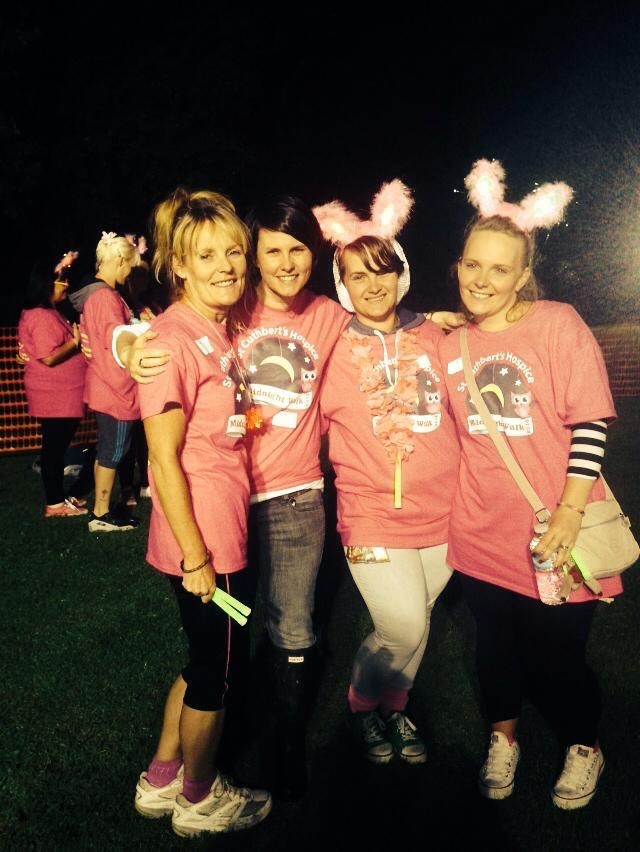 Adele said: "When my Mam was admitted as an In-Patient she received such wonderful care. The hospice was there for everyone and looked after us all. They helped to bring peace and made everything easier."
"My Mam passed away on the morning of Midnight Walk 2014. We had already planned to take part, Mam had even sponsored us, so we decided to walk as planned, to pay tribute to my Mam and to honour the tremendous support we were given by St Cuthbert's."
"It was really emotional but once we were there it was worth it. It was a wonderful celebration of her life. It will be really hard to take part again but we're looking forward to it. It's a great night out."
The money raised by Midnight Walkers makes a huge contribution to enable St Cuthbert's Hospice to continue providing services to patients with life-limiting illnesses. Each year St Cuthbert's care for over 1,400 individuals and families. 
Entertainment on the night will be provided by Smooth Radio. Just before the walk, well-known local fitness instructor Mandy Fenwick will lead the walkers in a Zumba warm-up.
All walkers who sign up will receive a Midnight Walk t-shirt. Fancy dress is encouraged. Stalls will be at the event selling light up accessories and fun dress up items. Walkers must be 10yrs or over and all under 15 must be accompanied by an adult. 
Registration costs £15 per adult and £12 per child (10-15yrs).
Sign up HERE
21/08/2018