We are delighted to let you know our very own young fundraiser Nathan Rennison has been shortlisted for the *Young Charity Champion of the Year Award* at the North East Charity Awards!
He was nominated by our fundraising team for his efforts raising money in memory of his dad Andy Rennison, who received care and support from the Hospice.
Nathan has raised £1875 in memory of his dad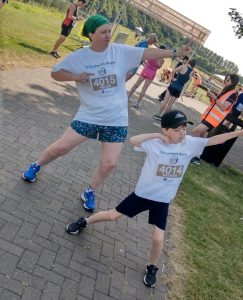 "Nathan, kindly accompanied by our cousin Helen, took part in the 1 mile 'Run Like A Legend' race at Durham City Run Festival in July 2022.
Almost two years ago, Nathan sadly lost his Dad Andy to Thyroid Cancer. Andy was a keen runner and, prior to his diagnosis, he had fundraised for St Cuthbert's Hospice by running 10k's and the Great North Run. Throughout his illness, the Living Well Centre at the hospice provided incredible support to Andy with the In-Patient Unit providing his end of life care.
Nathan chose to run his race in aid of St Cuthbert's to 'repay them for their kindness' in looking after his Dad. He completed the race in 10m 39sec. Thanks to our generous family, friends, and even people we have never met before, he raised over £1,800 for the Hospice."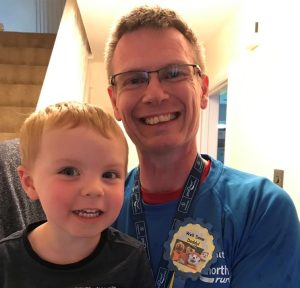 The amount Nathan raised was enough to pay for twenty-four whole hours of our In-Patient Unit costs and we helped him mark his 8th birthday on 22nd July with a 'Pay for A Day' in loving memory of his dad.
The awards ceremony takes place on Wednesday 19th October, so we'll make sure to let you know how he gets on!
Regardless of what happens on the night, we think Nathan is a little superstar and a fantastic ambassador for the Hospice