A group of friends have successfully walked five whole days covering a gruelling 220 miles from the Forth Road Bridge just outside of Edinburgh to St Cuthbert's Hospice, Durham to raised funds for the charity close to their hearts.
The team members Steven Meikle, Andy Black, Mark Berriman, Mike Hay and Chris Mattison averaged around 44 miles per day on their way back to the Hospice. To keep morale up they were joined by friends and family at various sections of the trek as 'guest walkers'.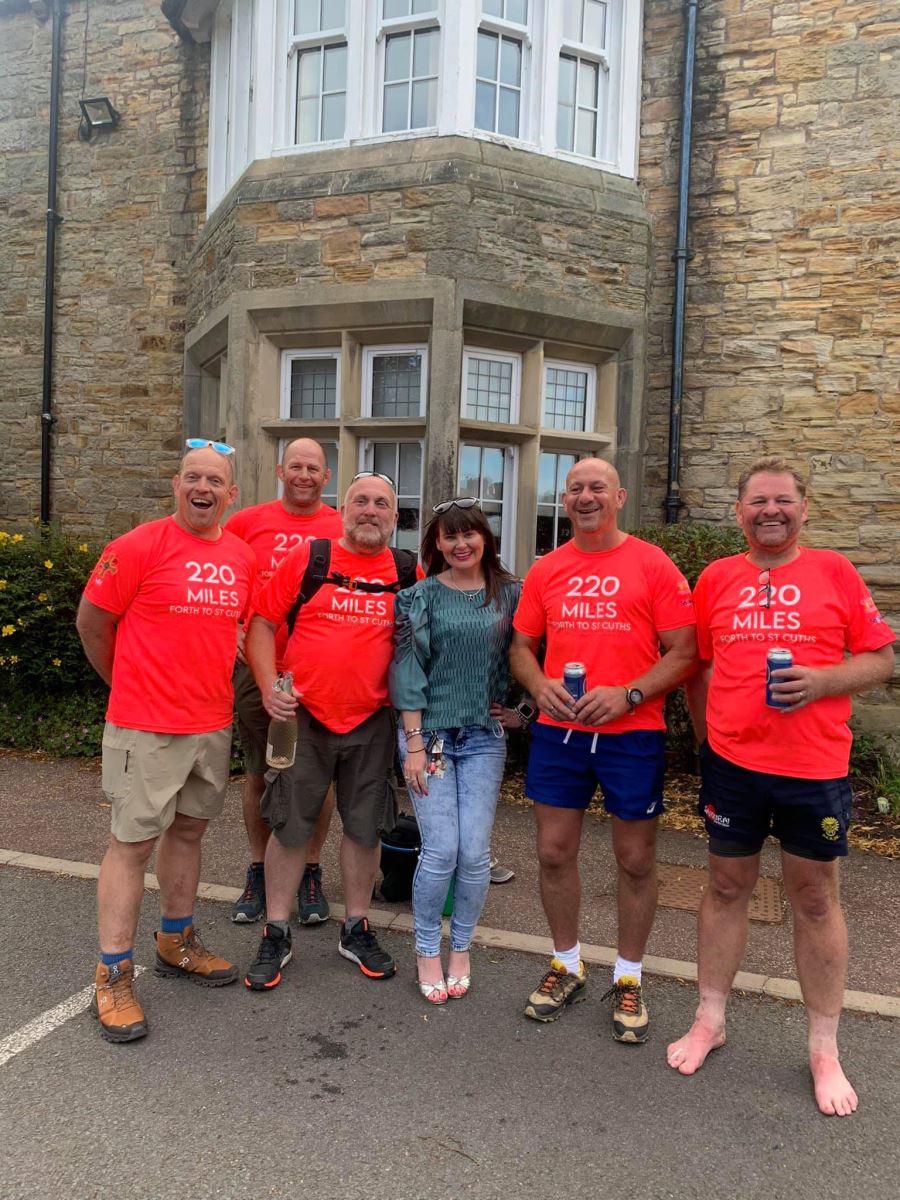 Andy said: "The whole experience was amazing from start to finish. We were forecast some really bad weather for the St Abbs Head section which typically was already set to be the most challenging walk. We expected thunder but thankfully we got mist and sunshine. The threat of the bad weather helped us to smash that section and we walked over 16 min miles on average. We're still on cloud nine and taking it all in."
Steve added: "We met some great people along the way who asked us what we were doing. Most people looked on in utter disbelief. At one point four little kids aged about 4 to 5 ran up to us and asked if they could put some money in our bucket. One of the boys said 'sorry, I only have brown ones' and he put 3p in the bucket. I nearly cried! We also met some people who didn't have any cash on them, but they had jars of honey from their own Beamish bee hives so gave us about six of those! The Hospice team will be able to sell them to make some extra money. I'm pleased it was worth us carrying them for the day!"
The team are already putting their heads together to think up their next walking challenge. All members have family or someone close to them who have experienced the care provided by St Cuthbert's Hospice. The charity make no charge for their care and rely on the public to help raise the £2.1 million needed each year.
Jade McArdle, Senior Community and Events Fundraiser said: "It was such a magic moment to see the team walking up the Hospice driveway to complete their challenge. They got the biggest and most deserved round of applause. We are in awe of the miles they have put in. They are such a determined bunch and we had no doubt they'd do it. We couldn't have imagined that they would raise so much money. These funds will help so much as we still deal with the effects of the pandemic on our fundraising. We really can't thank everyone enough."