OUR fundraising team are always keen to hear ideas and suggestions on how we can raise more money and promote events.
Last week, Becky Fishwick, Assistant Community and Events Fundraiser, paid a visit to Durham University and set staff a special challenge.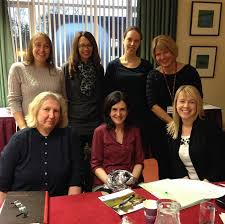 Becky asked university employees Vicky Welsh, Sue Woodcock, Anne Aspey, Karen Nichol, Kelly Blakeney, Kate Moore and Judith Murphy to plan an event for St Cuthbert's Hospice in just four hours.
The team, who are all taking the Institute of Leadership and Management (ILM) course, wasted no time getting started and Becky was extremely impressed with their suggestions.
She said: "We're lucky to have been given the opportunity to work with such a talented group of people. They came up with some really exciting ideas and we will continue to work with them to make the event come to life."
Claire Tindale, Training Office at Durham University, said: "This is the third time that delegates from one of our ILM Leadership programmes have worked on an event for the Hospice as part of their leadership development.
"These activities provide an excellent opportunity for Durham University staff to utilise their professional experience to support the Hospice while also developing their skills."