COLOURAMA FRIENDS RAISE MONEY IN MEMORY OF BRAVE MANDI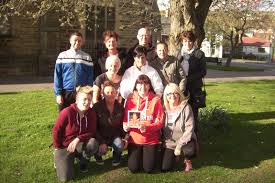 A group of up to fifteen friends will be going to St Cuthbert's Hospice's Colourama event in memory of a brave County Durham mum who died of skin cancer.
Friends of skin cancer campaigner and mum of two Mandi Welsh, who died aged 44 in November, 2012, will take part in the June 6th event as the Wacky Walkers. All of them remain inspired by Mandi's courage as she faced her illness.
Jane Graham, of Crook, said: "She was lovely. She was such a nice girl and she was desperate to live."
"She is still an inspiration to us all. It will be very emotional for us at Colourama and it will be a proud day too, but I think a lot of people at the event will be there for a loved one."
Jane said she and Mandi, who was originally from Newton Aycliffe but later lived in Kelloe, first met and became firm friends in 1998 as they worked together at Flymo in Newton Aycliffe.
Mandi, who was a loving mum to Scott and Lauren, would eventually spend around two weeks before she died at St Cuthbert's Hospice.
Jane like many friends and family visited often. She said: "Mandi received brilliant care at the hospice. I felt so comfortable there when I visited. The staff couldn't do enough for you. It was lovely."
Mandi became well known in her final years touring schools and appearing on TV warning about the dangers of skin cancer and sun beds. Her charity work led her to become an Olympic Torch Bearer in 2012.
Photos: – Jane Graham/ with picture of Mandi Welsh.