It was a great privilege for us to place a leaf onto our In Memory Tree on behalf of family members who live abroad. The leaf was placed to honour the life of Jean Bhattacharya, fondly known as Jean B. Jean's family chose to add the leaf as a lasting tribute to her in what was one of her most favourite places – St Cuthbert's Hospice.
She was a devoted volunteer at St Cuthbert's and was pivotal in the initial fundraising to allow us to open our doors in 1988. It's well known at the Hospice that Jean even helped to paint the walls when we first got the keys to the building all those years ago! As a volunteer for over thirty years she helped to care for many many individuals in our day care service, now known as The Living Well Centre. Jean's family told us:
"My most favourite hospice stories about my mother have always been ones filled with laughter and joy from her friends and colleagues. The hospice was lucky to have her but she was also lucky to have the hospice and all the wonderful staff, patients, guests, and lifelong friends. When Mum ended up in the Freeman last summer very poorly indeed, I remember her saying "All I have ever wanted to do is help people." and that is something she did her whole life and especially at St Cuthbert's"

"The times I visited the hospice with my mum filled me with such pride. It was wonderful to see her interacting with the guests and putting them at ease. It was clearly a gift and you could see how much she loved being there as a volunteer carer. She always referred to St Cuthbert's as her second home and it was really poignant that she became a guest there herself at the end and of her life."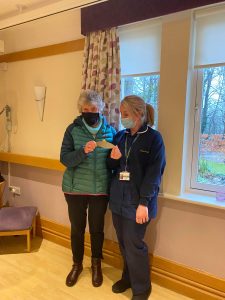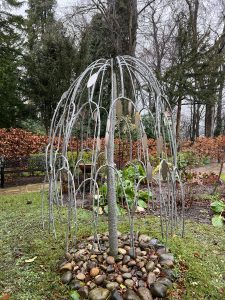 Our In Memory Tree provides a beautiful way to remember a loved one.
The Tree is adorned with leaves, each engraved with a name or message to a loved one, as a lasting tribute to their memory.